[home] &nbsp&nbsp&nbsp&nbsp&nbsp [about] &nbsp&nbsp&nbsp&nbsp&nbsp [running commentary] &nbsp&nbsp&nbsp&nbsp&nbsp [roland] &nbsp&nbsp&nbsp&nbsp&nbsp


Edd's Running Commentary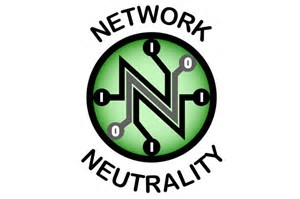 contact@eddtokarzharnas[dot]com



Interested in owning a Harnas?
and my Etsy page.



02-18-18: Reminiscing
I'm still getting caught up with the images I made from a LOT of old slides. Wow, in this case, digital is better. So much time and money went into those slides, and so many were underexposed and poorly framed.
Another benefit is seeing pieces I haven't seen in years. And some with good reason: they were not saved.
Here is one: as I look now, it's not a bad piece, but I guess at the time it didn't meet my expectations. I think I was going through my "Klimt period". Maybe I can "revisit" it sometime..
ETH-0434 "Portrait, in Black & White #5" 10x15 oil 1988



02-11-18: The Cool People Series
Last year I started some 11x14 ballpoint pen drawings to occupy myself while stream videos. "Mark Twain" was posted back in January, as the series began to center on "cool people." Here's another one...
ETH-2816 "Wolfman Jack" 11x14 ballpoint pen 2018



02-03-18:
The return of the ghost girl...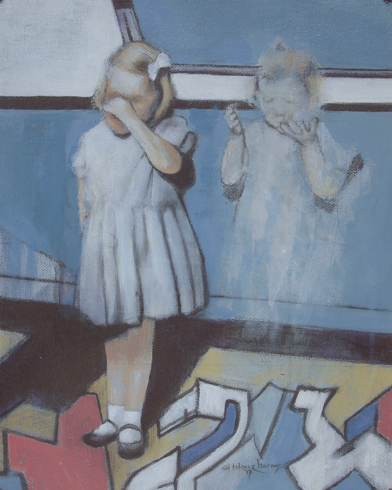 ETH-2813 "Bel Air" 8x10 pencil/acrylic 2018



01-28-18:
A recent piece that slowly evolved through a couple of styles. But the attitude is still preserved...
ETH-2817 "Third Person Effect" 8x10 pencil/acrylic 2018



01-21-18: Schaefer Portrait Challenge..
So last weekend, I was on Maui for the opening of the Schaefer Portrait Challenge. I can finally post the piece that has absorbed a lot of 2017--painting and then waiting!
The portrait features Roland doing one of this typical Starbucks' setups: he lugs two bags with teacups, teapot, linens, flowers, etc to create an old-fashioned afternoon tea within the confines of one of our largest contemporary corporations. He also photographs these setups, with his cellphone no less, to create some of his lovely greeting cards. And he meets a LOT of interesting people this way.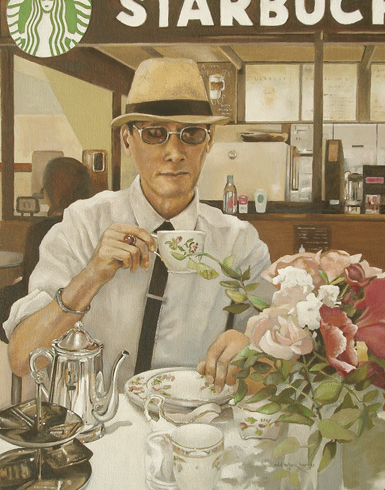 ETH-2745 "What Grande Could Mean" 11x14 oil 2017
Roland went over to Maui with me and had fun posing with "his" picture...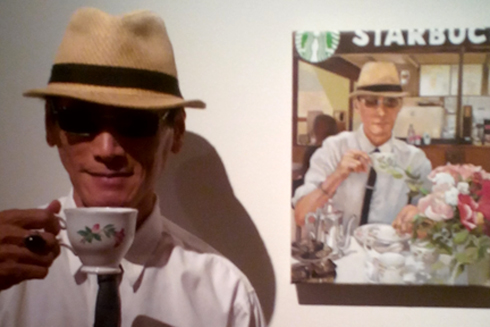 01-07-18: So begins another year..
The year is off to a busy start: I have a piece in the Schaefer Portait Challenge that opens next weekend on Maui, and a box of "Little Gems" for West End Gallery ready to go for February.
In the meantime, I've been doing a series of ballpoint pen portraits in the evening as I stream "Bares Für Rares" for entertainment.
This series started off with Abraham Lincoln, and I assumed it might stick with U.S. Presidents. But then Twain came to mind, and so now the series is called "Cool People".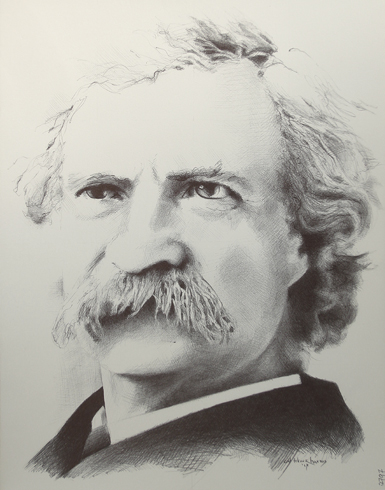 ETH-2797 "Mark Twain" 11x14 Bic pen 2017

ETH-2797 "Mark Twain" [detail]



12-31-17:...
I apologise. I did not realize until Wednesday that I forgot to post last Sunday. Christmas Eve's schedule was atypical, so my normal routine was disrupted. I also post weekly something new on Instagram, and now I have to keep two things straight.
Christmas for me was nice and quiet, with minimal consumerism and stress. Just the way I like it.
Here's a recent piece as I look forward to another year of sharing my artwork with you.
ETH-2806 "I Don't Like It When You Go Out Driving At Night" 8x10 pencil/acrylic 2017



12-17-17:..
Today, a recent piece..
ETH-2803 "Blue In The Face" 8x10 pencil/acrylic 2017



12-10-17: Another oldie..
In going through all those old slides, I found quite a few pieces that were interesting to see again. This one was a section of a 5 part "nativity" scene. I thought I would share at this time of year.
It's interesting to note facial expression: a foreboding?
ETH-0860 "The Mokita Creche (detail)" mixed on kraft paper 1993



12-03-17: An oldie..
So I'm almost done with my "slide conversion" project. Despite some really crappy slides (gee, a digital camera and Photoshop are SO much better), it was nice to revisit some favorite old images. And to see some that I had forgotten about.
This is from the Portrait, in Black and White series. It is mixed media on cardboard. I see it as a nice indicator of where I progressed with the portraits recently..
ETH-0853 "Portrait, in Black and White #42" 27x27" mixed 1993



11-26-17: Some nice memories..
Spent a LOT of time the last couple of days converting old slides (as far back as 1980) to jpegs. And still over one hundred yet to go!
In the process, I've revisited a lot of "old friends" and a few pieces that I had forgotten all about. It's a makeshift system I'm using, but it gets the job done. Here's a an oldie, for example:
ETH-0481 "Dylan II" 6x7.5" Bic pen 1988
As far as more recent artwork, someone suggested that I try entering a juried show through the Society of Illusatrators. Well, this piece didn't make it, but I think it's a fine drawing anyway!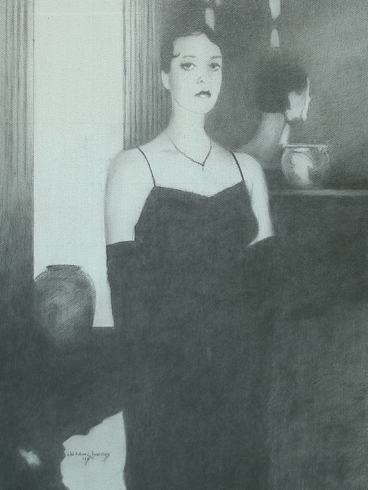 ETH-2790 "Unintentional Mirroring" 9x12 pencil 2017



11-19-17:
I am thankful that you take the time to look at my pictures....
ETH-2789 "The Question On Everyone's Lips" 8x10 pencil/acrylic 2017



11-12-17:
I've done Lincoln portraits in the past; now to try someone else for a change.
This is a slightly larger ballpoint pen drawing. The problem with ballpoints though is that they can produce unwanted blotches. Such is the case here, and it happened early on, but I perservered nonetheless..
ETH-2796 "Stephen G. Cleveland" 11x14 ballpoint pen 2017



11-05-17: Inspiration part 1..
A couple of weeks ago, I mentioned I would do a blog about some artists that inspire me. I had a list of several dozen, but I narrowed it down to a few for this post. In most cases, they are artists with vision and technique that I hope to learn the most from. Some even have websites you can check out.
My daughter Amelia is one: her precise, economical line work and experimentatiion with wine-painting and wood burning make me proud!
The strong lighting and unusual cropping of Francois Bard is also very appealing to me. Results in an interesting mystery..
Alex Kanevsky works in several layers, both figurative and seascapes, that result in a fascinating blur between realism and impression. Literally, very fluid...
Another artist with a strong sense of lights and darks as well as fluidity is Dan Voinea. This magnifies his exceptional, imaginative figurative scenes..
And speaking of imaginative scenes, there's Paco Pomet. I like his realistic painting style and his ability to venture between black/white and colour.
Of this group, the only artist whose work I have seen in person is Jerome Witkin. This would have been in the 90's at the Arnot Art Museum, which featured several of his paintings. Although I had previously observed others react emotionally to artworks, this was the first time it hit home for me: and strongly--in the gut! The works, especially those concerning the Holocaust, are the most powerful I have ever seen...
I hope to get to a few more influential artists in future blogs; meanwhile, you can check out this group:
And now for one of my recent pieces..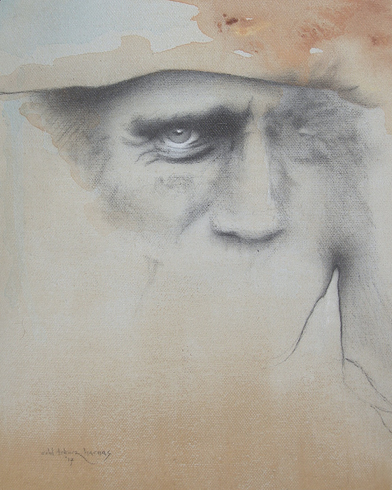 ETH-2791 "Bozo Texino" 8x10 pencil/acrylic 2017



10-29-17: I got my answer...
Sometimes, if you just listen, the answer comes to you.
On my morning walk, I listen to various podcasts. Multi-tasking. And I recently listened to one about marketing for artists. They were talking about telling people 1) what you have to offer and 2) what it's going to do for them.
Well, my site obviously shows what I have to offer, but I was at a loss about the second part. I offer nothing that cleans drains, whitens teeth or knocks 1/2% off your interest. I thought that a picture on the wall does nothing to provide food, clothing or shelter.
But on another walk, as usual, if I'm toward the end of my route, and it's too late to start a podcast, I just listen to music on my little player. It's filled with personal favorites of all kinds. But this particular morning, a song came on that I really liked. One of those über-favorites that I'm always in the mood for. And for lack of a better analogy, I felt like Travolta when he owned the street with "Stayin' Alive" on the soundtrack. It just changed my whole mood.
And that's when I realized that a creative endeavor doesn't have to whiten teeth or put food on the table. It just has to make you feel so damn special that everything else is beside the point.
Pure enjoyment. And if you get that similiar feeling from what I do and show here, then I have accomplished something.
And now, a recent piece..
ETH-2788 "A Walk In The Park" 11x14 pencil/acrylic 2017



10-22-17: Goin' Back..
First, someone suggested that I write about the artists, living or dead, that most inspired me. I thought this was a blog good idea and made a mental note of some. I also keep a digital file of images that I come by online, mostly from blogs that I follow. I looked through that as well.
Well, the list grew to about 40-some artists, SO, I think this is something I'll have to do some further work on for a future post (or two..)
Meanwhile, this is a crude photo (hand held without a tripod) of a drawing in the dining room of some friends. They bought it years ago, and I like to visit my old pictures as well as my friends. This is a ballpoint based on a photo of A & A "dressing up."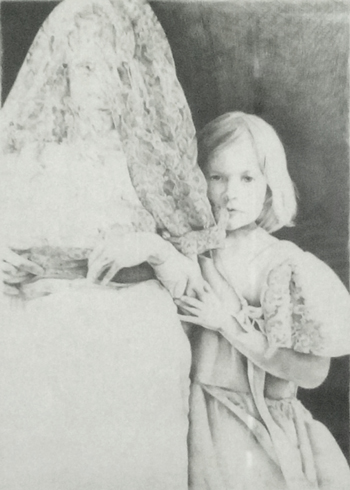 ETH-0760 "Its Duty Is Its Sorrow" 18x24 Bic pen 1992



10-15-17: Some pictures just name themselves..
I started to refer to it as the psychedelic elephant when the background was going in, and it stuck. It's actually a reworking of the same elephant head in "Renaissance Elephant" from 1993.
ETH-2770 "Psychedelic Elephant" 9x12 pencil/acrylic 2017
Oh, and I got my first copies of the new book the other day.
10-08-17: The perils of gallery wrapping..
First, the Pamana Art Exhibit is currently up through Oct 27 downtown. Say "aloha" if you come to the reception..
One piece in the show is the one shown below. In recent years, due to storage logistics and expense, I have been embracing the gallery wrapping technique. This is where you see the sides of the canvas as they go around the stretcher bars (standard or the large gallery width). Some simply paint the edges a flat color, usually black, and are done with it. I prefer to let the image flow around. So when I lay out the design, I take this into consideration. Usually it works just fine.
But on this piece, I had some really nice detail that ended up on the top and sides. Poor planning!
When you see this piece, make sure to really look around it!
ETH-2772 "I Tried Hard To Understand You" 11x14 pencil/acrylic 2017



10-01-2017: Another art show..
This piece is one of three I will have in a new show downtown Honolulu.
ETH-2781 "72VM7R" 8x10 pencil & acrylic 2017



09-24-17:
Well, I was busy this past Tuesday finishing up a new small book of artwork, "Doing The Same Thing Over And Over (Without Repeating Myself)".
There is also a link to it on the "About" page.
Working on a larger than usual oil painting at the moment. It is going SLOWLY. Otherwise, had time for a small portrait study..
ETH-2784 "The King's Touch" 8x10 pencil/acrylic 2017



09-17-17:
A recent piece. It incorporates some sort of universal written language. I heard about it a while ago in a podcast and researched more online. I found a phrase that made a perfect title. Damn if I can remember what this "language" is called right now...
ETH-2769 "That Nonsense Must Stop" 8x10 pencil/acrylic 2017



09-10-17:
Something recent..
ETH-2779 "Where Is Away?" 8x10 pencil & acrylic 2017



09-03-17: Captive Audience..
This morning, I recall talking with a friend who owned a small figure study in oil. He was a little apprehensive about telling me that it was hanging in the bathroom. I suppose he thought I would be offended. Not at all!
This is actually the second time I heard that one of my art pieces was hung in a bathroom. I think, in the proper spot, it would have a rather "captive audience!" (I guess I would only be competing with the newspaper!)
Actually, I have two pieces in my bathroom at the moment. In my case, when you need to store a lot of work, you use all wall space available!
Meanwhile, a recent piece..
ETH-2777 "Dueling Scar" 8x10 pencil/acrylic 2017



08-27-17: Artistic Experiment..
The other day, one of the art blogs I follow posted a whimsical Shane Wolf portrait (self-portrait?). Wolf is a artist whose work I have admired for a while now.
The painting was a basic, loose academic rendering and I wanted to try something in that style. And that's what today's piece is all about..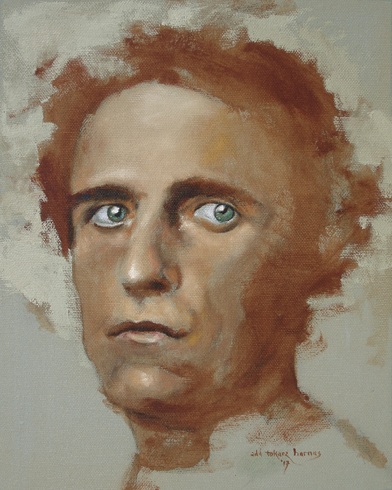 ETH-2776 "The Oath Keeper" 8x10 oil 2017



08-20-17: On Exhibit
I have 3 pieces in the current Association of Hawaii Artist's "Contemporary Show 2017" in downtown Honolulu. This is a recent portrait that is one of the three..
ETH-2767 "Feudal Superstition" 11x14 pencil/acrylic 2017



08-13-17: Even Smaller Than Usual..
This week, I made a couple of small pieces that may end up at West End Gallery's "Little Gem" show next February. This is one of them..
ETH-2773 "Tastefully Wasted" 5x7 pencil/acrylic 2017



Titles Say A Lot..
When I see a piece in a show or online that is "untitled" I feel a little bit cheated. Even the simplest one-word title can add so much dimension or direction to an art work. I keep a list of words and phrases that I hear or read and refer to them when a title doesn't automatically present itself. The title of today's piece, unfortunately, is adopted from a national newspaper obituary about a bullied teen. But beautiful words to remember always..
Secondly, I'm pleased to report that I had two pieces accepted into the Honolulu Japanese Chamber of Commerce's 39th Annual Commitment to Excellence Exhibition this month. As they say, 6th time is a charm!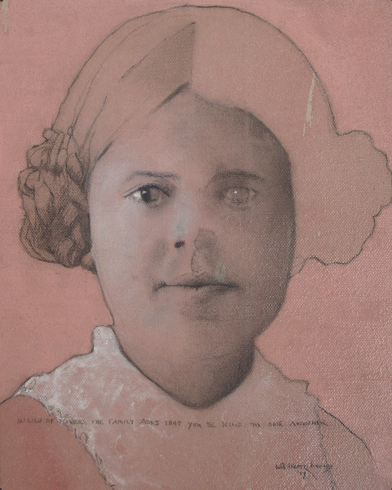 ETH-2764 "In Lieu Of Flowers, The Family Asks That You Be Kind to One Another" 8x10 pencil/acrylic 2017



07-30-17: Darker drawing..
I like the effect I get with pencil on canvas. But sometimes, I'm looking for a darker, bolder line. This piece uses a charcoal pencil and white chalk to bring out the contrast.
EHT-2739 "Grandpa Took The Company Public" 8x10 charcoal chalk & acrylic 2017



07-23-17: B&W Portrait..
This is the companion piece to the April 30th portrait. I'm hoping to get it into a local show in August..
ETH-2760 "Portrait, in Black & White #55" 16x20 oil 2017



07-16-16: Happy Accidents..
With the 50th anniversary of "Sgt. Peppers..", I happened upon a podcast with Paul McCartney discussing the recording sessions. He mentioned that some of the (then) unique features were the result of "happy accidents".
Well, the portrait below is one of my happy accidents. I had some paint left from a piece I was working on, and just finished up the session with a small oil study. I didn't care for it, and set it aside.
Not long after, it was the same scenario, and I painted another face over the old one using excess purple. The colors of the original face came through, and I liked the result.
ETH-2766 "Fashion Mottle" 8x10 oil 2017



07-09-16:
Let some pictures, this started out with the portrait. It was competently done, but lacked pizzazz. Don't remember how I stumbled on the KISS makeup idea, but went with it-what the hell. Still had some open space, so in went some dog pics I had stockpiled. And the rest is history, as they say..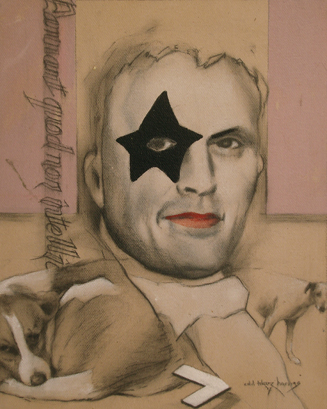 ETH-2763 "Artistocrat In KISS Makeup" 8x10 pencil/acrylic 2017



07-02-17:
ETH-2617 "Dukhobor" 8x10 pencil/acrylic 2016



06-25-17:
Participated in the annual Beulahland art project, this year entitled 66 Ours. Phase 1 of this years project was to write a piece based on two assigned photographs. Phase 2 was to interpret one of those writings (randomly?) assigned to you. The piece assigned to me was entitled "Zoo" which led to my submission.. This is among the largest pieces I've ever done.
ETH-2748 "Zoo" 54x54 mixed media 2017



6-18-17:
So, for the last couple of days, I have finally been working on a new art book, to follow up "On Speculation" (see my "about" page). It will include work made since that first book came out five years ago plus an interesting variety of early works. I'll keep you posted!
06-11-17:
A little more stylized on this one..
ETH-2756 "(Defiant) In The Face Of" 8x10 pencil & acrylic 2017



05-28-17:
Amelia and I had a few moments recently to try a little challenge: each of us started a drawing and we switched off every 5 minutes.. a sort of collaboration. This is one of the drawings we did:
And now, here is one that I did all by myself!
ETH-2749 "I'd Have That Looked At" 8x10 pencil/acrylic 2017



5-21-17:
Back to work.. I have 4 pieces in the annual 6x6x17 fundraiser. Can you figure out which ones I did? Here's a clue...
ETH-2689 "Agathism" 6x6 pencil/acrylic 2016 [Private Collection]



05-07-17:
The final piece is at the top of my index page. Here it is going through the stages: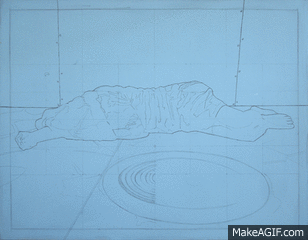 ETH-2735 "Storm Und Drain" 16x20 oil 2017
And here are four pieces that I started separately, but decided that they went well together, like a wall of family pictures.
ETH-2734 "Game Theory" 16x20 pencil/acrylic 2017



04-30-17:
Attempted to see how much of a portrait I could do in acrylics as opposed to oils. I think it came out allright..
ETH-2747 "Portrait, in B&W #54" 8x10 acrylic 2017
Next time, it's the final reveal; but until then..
ETH-2735 "Storm Und Drain" [in progress] 16x20 oil 2017



04-23-17: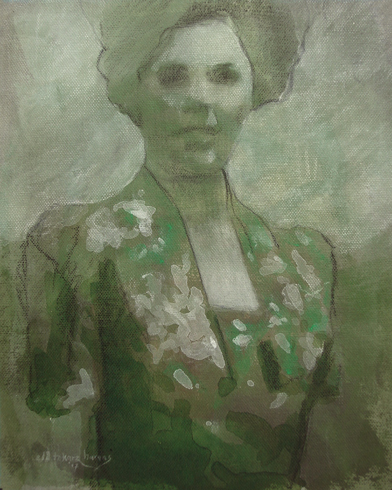 ETH-2743 "Faded Memory" 8x10 pencil & acrylic 2017
ETH-2735 "Storm Und Drain" [in progress] 16x20 oil 2017



04-16-17:
This one is set to go to West End Gallery for May when they celebrate their 40th anniversary!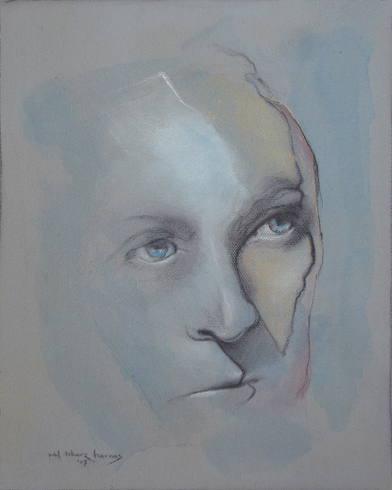 ETH-2740 "The Culper Spy" 8x10 pencil & acrylic 2017
And another step along the way..
ETH-2735 "Storm Und Drain" [in progress] 16x0 oil 2017



04-9-17:
I had a newprint sketchpad and decided to do some face sketches in between the regular portraits. Here's one of the first..
ETH-na [untitled] c8x10" ballpoint pen 2017
And more progress shots..
ETH-2735 "Storm Und Drain" 16x20 oil 2017



4-2-17:
A recent in the face series, plus an update on my latest detailed painting..
ETH-2738 "The Social Brain Hypothesis" 8x10 pencil & acrylic 2017
ETH-2735 "Storm Und Drain" [in progress] 16x20 oil 2017



3-26-17:
The next stage in this painting..
ETH-2735 "Storm Und Drain" [in progress] 16x20 oil 2017



03-19-17:
I'm experimenting to see if there is any interest in my portraits on Saatchi Art. Here's on of the pieces that I've recently listed.
ETH-2733 "Never Got A Ladmo Bag" 8x10 pencil & acrylic 2017
And now for another series of progress shots...
ETH-2735 "Storm Und Drain" [in progress] 16x20 oil 2017



03-12-17: The Unveiling
So, as promised: the last stage of "the pool painting". You can see it as the first piece on my main (index) page.
Here's a little GIF I made of all the stages posted:
ETH-2702 "Look What They've Done To My Song" 16x20 oil 2017
Again, acknowledging singer/songwriter Melanie.. I must have heard the song while working on this, and it seemed to fit.
I am finishing up another larger more detailed piece with progress shots starting next week.
And here's a little something I did yesterday..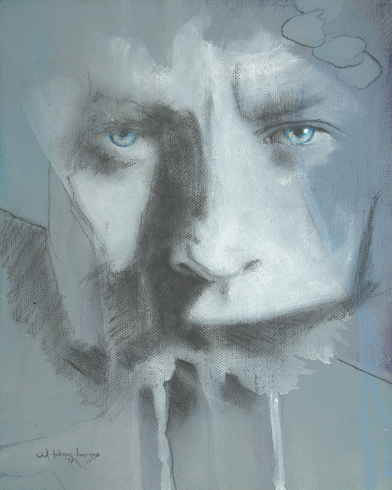 ETH-2736 "Drool" 8x10 pencil & acrylic 2017



03-05-17:
The bulk of this 1st piece happened in a very short period of time. I was in spired and I ran with it. Just a little bit of fine tuning over a few more days, and it was ready to go onto the wall.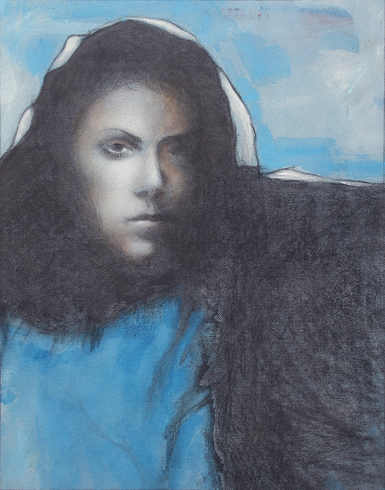 ETH-2730 "The Woman In Red (I Can Lie Too)" 11x14 charcoal & acrylic 2017
And this is the last progress pic before you see the final piece...
ETH-2702 "Look What They've Done To My Song" 16x20 oil 2017
02-26-17:
Not sure why I don't come up with titles for these entries anymore. I'll just let the images speak for themselves, hmm?
ETH-2725 "Double Bind" 8x10 pencil, charcoal & acrylic 2017
And we're getting close to the completed version; just a few more steps to go..
ETH-2702 "Look What They've Done To My Song" 16x20 oil 2017



02-19-17:
I've seen artsy photographers do stuff like this in portraits. Thought I'd give it a go...
ETH-2719 "The Prussian" 8x10 pencil & acrylic 2017
And then...
ETH-2702 "Look What They've Done To My Song" 16x20 oil 2017



02-12-17:
ETH-2721 "Lex Talionis" 8x10 pencil & acrylic 2017
Another update. Soon, you will see the "finished" product:
ETH-2702 "Look What They've Done To My Song" 16x20 oil 2017



02-05-17:
A face from late 2016..
ETH-2698 "Bystander Effect" 8x10 pencil & acrylic 2016
In reality, the next piece is done. I gallery wrapped it this week and it's hanging on the wall for inspection. One problem I have with these larger and/or detailed works is that I tend to get bored with them after a while.. and quit while I'm ahead!
Here is where it was about a month ago..
ETH-2702 "Look What They've Done To My Song" 17.5x22 oil 2017



01-29-17:
Something from this week..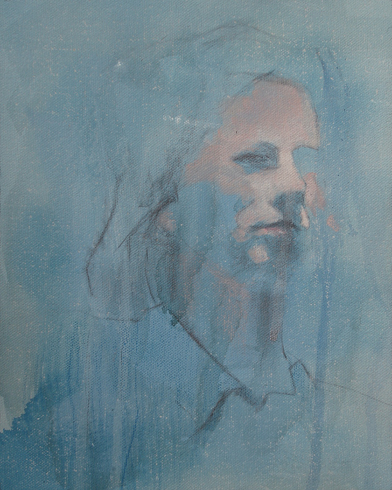 ETH-2717 "Cult Of The Urban Sophisticate" 8x10 pencil & acrylic 2017
In reality, I'm pretty much done with this one, but I still have a few progress pictures to go!
ETH-2702 "Look What They've Done To My Song" 17.5x22 oil 2017
in progress



01-22-17:
More faces in the new year..
ETH-2713 "Handsome Devil" 8x10 pencil & acrylic 2017
And another update..
ETH-2702 "Look What They've Done To My Song" 17.5 x 22 oil 2017



01-15-17:
Once the face was developed, I needed something in the background. So I resorted to a graffiti motif, again.
ETH-2704 "Not Supposed To Be Happy" 8x10 pencil & acrylic 2017
And a little more reveal on..
ETH-2702 "Look What They've Done To My Song" 17.5x22" oil 2017



1-08-17:
I'm starting to do some detail pics to give you a better idea of what goes into some of these pieces.
ETH-2705 "Shards Bring Luck" 8x10 pencil & acrylic 2017
And another progress report..
ETH-2702 "Look What They've Done To My Song" 17.5x22" oil 2017



1-1-17: Happy New Year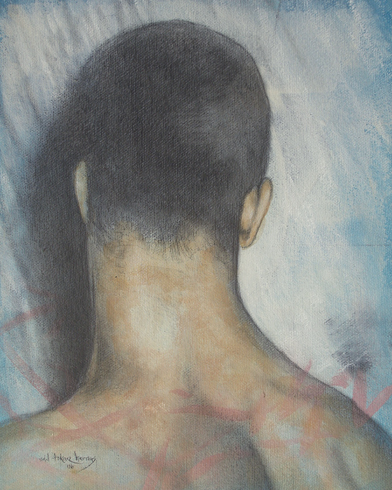 ETH-2703 "High Value Target" 8x10 pencil & acrylic 2016
and a progress report (although in reality, I'm much further along than this; you'll just have to wait patiently to see how it turns out..)
ETH-2702 "Look What They've Done To Me Song" 16x20 oil 2016



12-25-16:
Another piece that continues the graffiti theme, to some extent. This piece recreates splatting on the base of a lamppost at a bus stop; I took a picture of it because it was pretty intriguing. I then superimposed a partial portrait over it.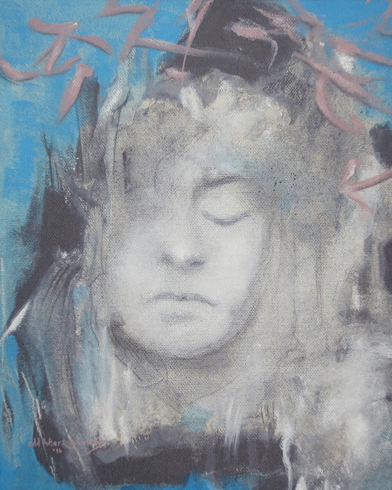 ETH-2700 "Vision of Siobhan on the Base of a Lamppost" 8x10 pencil & acrylic 2016
I have also started my most detailed piece since "Droste Tourist" in early 2015. I will post progress pictures from time to time.
ETH-2702 "Look What They've Done To My Song" [ in progress] 16x20/17 1/2 x 22 inches oil on canvas



12-18-16:
Something recent..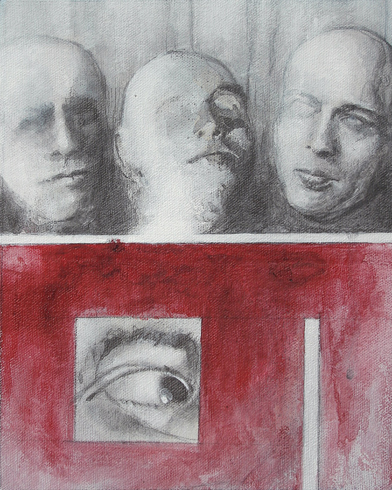 ETH-2694 "Identity Parade" 8x10 pencil & acrylic 2016



12-11-16:
This one is done, albeit a little over worked. Sometimes you just don't know that until it's too late. I was working toward something like "Algedonic" which I did a couple of years ago. But close!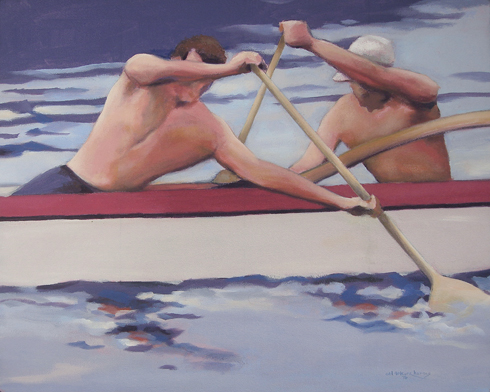 ETH-2672 "Cross Purposes" 16x20 oil 2016



12-04-16:
As I mentioned a recent previous post, I'm painting more with the acrylic. Although this still has wash techniques, there are more areas of opaque paint.
ETH-2688 "Managed Outcome(s)" 8x10 pencil & acrylic 2016



11-27-16:
For its size, this has a lot of pencil work goin' on..
ETH-2682 "Smoke Rings" 5x7 pencil & acrylic 2016



11-20-16:
I should always write things down when I think of them. Of course, half the time, I'm nowhere near paper and pen. I had a title for this recently, but I was doing something else and damn if I can remember the title. I was pretty pleased with it at the time as I recall!
ETH-2679 "You Have Given Me Nothing But Clues" 10x12 mixed media 2016



11-13-16:
I'm working on using the acrylic as more than just a wash of color. Compared to oil painting, acrylic dries way to fast. But I'm going at it with a small amount of paint at a time, and replenishing as I go. Here's an example: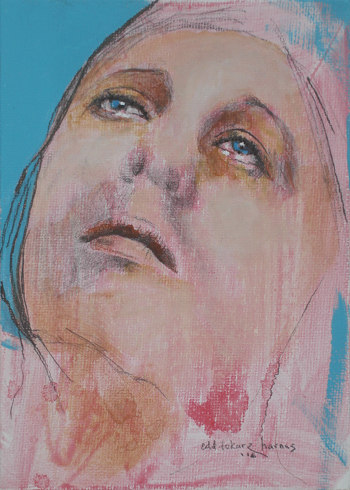 ETH-2675 "Schwierigkeit" 5x7" pencil & acrylic 2016 [Private Collection]



11-06-16:
This week, I started the first larger piece (for me) in a long time. This is based on a photo of outrigger paddlers I took some time ago. It sat in my "to paint" file for a long time, until I realized it needed more cropping. I got rid of a 3rd guy who was to the left and not doing anything particularly dramatic. Once I had just these 2 guys, at seemingly cross purposes, executing a turn, I had the right composition. Halfway there..
ETH-2672 "Cross Purposes" 16x20 oil 2016
Also had time for another face study..
ETH-2673 "Wittol Of The Year" 8x10 pencil & acrylic 2016



10-23-16:
Another smaller piece eligible for the next Little Gems show at West End Gallery...
ETH-2667 "Merry Prankster" 5x7 pencil & acrylic 2016 [Private Collection]



10-16-16:
This was a hit on Adriana's birthday...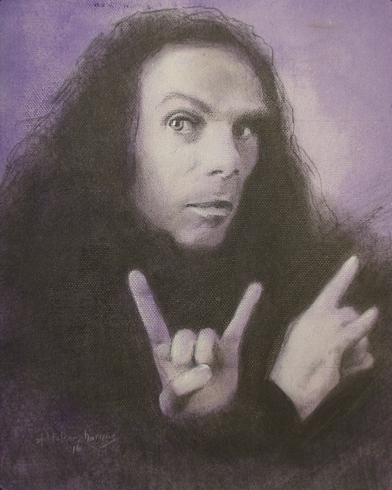 ETH-2660 "Dio" 8x0 pencil & acrylic 2016 [Private Collection]



10-09-16:
Today is Lennon's birthday, and I just recently finished up this piece.
ETH-2661 "Lennon #4" 8x10 pencil & acrylic 2016 [Private Collection]


I've also started a Pet Portrait page since I will soon have extra time on my hands to tackle such projects.
10-02-16:
This is a piece from last year that has been waiting patiently for its turn. Depending on my route, my morning walk includes actual scenes like this...
ETH-2583 "Ch'i" 8x10 oil on panel 2015 [Private Collection]



09-25-16: Going smaller..
"Little Gems" at West End Gallery is coming up after the first of the year, so I have started to get some work together for that.
This is the first one..
ETH-2664 "Primus Inter Pares" 5x7 pencil & acrylic 2016



09-17-16:
A recent piece.. another smoker..!
ETH-2659 "Judas Goat" 8x10 pencil & acrylic 2016 [Private Collection]



09-11-16:
A recent piece sent to West End Gallery.
ETH-2657 "Whistling Girls And Crowing Hens" 8x10 pencil/acrylic 2016



09-04-16: Still thinking..
I kinda thought this was done. Now Roland says I should have a little smoke coming off the cigarette...
Still thinking about that...
ETH-2658 "The Professor Plays Pocket Pool At The Syrian Dig" 11x14 pencil & acrylic 2016



08-28-16..
Working on a couple more ideas for an upcoming local show. I mentioned earlier that I would comment on juried shows. For artists, they are a double-edged sword: a chance for exposure and even an award... or nagging doubt when you are not accepted. (Rejected sounds so harsh, right? but that's sorta what it is.)
Trust me, I've been rejected from more shows that I was ever in over the years, and it doesn't necessarily get any easier..
But one thing I have learned that I can pass along to other artists: research the juror! especially if they are artists themselves.
While most art shows and jurors work under the assumption that the juror will be impartial and inclusive, their personal style will enter into it -- trust me. A painter of abstract nudes will probably have a harder time with a juror who specializes in traditional watercolour florals than another traditional watercolourist. I am NOT saying that all juried shows are slanted; but I suspect you will have a better chance if your work is within the milieu of juror.
Here's the final of a piece posted earlier that was recently rejected...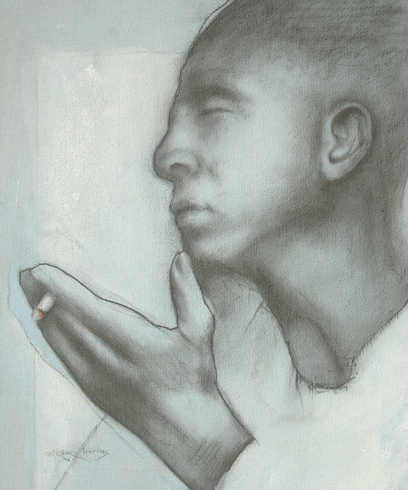 ETH-2645 "What The Hell Is Your Problem" 10x12 pencil& acrylic 2016



08-21-16:
A busy weekend, sometimes with artwork, sometimes not! So a few pieces are still in various stages of completion. Here's an older one that hadn't been posted, as of yet..
ETH-2627 "7 to 1" 8x10 pencil & acrylic 2016



08-14-16: An innocent question
Other artists have probably heard this before: when someone saw one of my paintings and found out that I was the artist, the first question was, "How long did it take you to paint that?"
In the past, depending on my mood, I thought it was anywhere from a goofy to an insulting question. But since, I realize that it is an innocent and honest question. I think, in part, it acknowledges the dedication to ones talent and profession to achieve something. At least, that's what I'm stickin' with at the moment.
Today's featured piece took a while to complete, but I don't have any exact idea how long it really took. There were several days of glazing with color, and touch ups here and there.
ETH-2655 "It Needs To Numb The Host" 8x10 pencil & acrylic 2016



08-07-16:
ETH-2592 "Theophant" 12x16 pencil & acrylic 2016



07-31-16:
Many many years ago, I bought a drawing at a student art show in Syracuse. It had two panels, each with a cat and a specific date. The boys father explained that boy had some condition which I forget now; but the drawing is memorable. I find with this piece, I am working more in the pure color and heavy line of that drawing. Thank you...
ETH-2653 "The Disgruntled Voter" 8x10 pencil & acrylic 2016



07-24-16:
This is one piece finished this week. Plus I've updated the index with a couple of new pieces that haven't been featured in this blog...
ETH-2652 "A Couple of Joes" 8x10 pencil & acrylic 2016



07-17-16:
Busy weekend: got a couple of projects finished including an entry into a local art show. Plus more interesting drawings; like this one...
ETH-2649 "Portal Patrol" 8x10 pencil & acrylic 2016



07-10-16: A couple of projects underway..
I've been working on a couple of pieces that I would consider entering in a couple of upcoming local shows. This one is headed to West End Gallery
ETH-2636 "Not My Circus. Not My Monkeys" 8x10 pencil & acrylic 2016



07-03-16
Back at it after a short break..
This is an early stage of a piece in progress.
ETH-2645 "What The Hell Is Your Problem?" 10x12 pencil 2016



06-19-16:
I have two pieces in the Asia Pacific Arts Consortium exhibit in downtown Honolulu until the end of the month: "Mark of Cain" and "Kinehora." And pleased to find out the latter won a third place award. Although I felt I didn't fully do it justice and end up where I wanted it to be, I'm still pleased that others like it!
ETH-2629 "Kinehora" 10x12 pencil and acrylic 2016



06-12-16:
A little while ago, I mentioned trying for an effect but going astray and liking the results. Well, I finished up a piece that's closest to what I was trying for and it's on the macabre side. I've been aware of a couple of people recently dealing with chemotherapy, and this piece reflects that. It's also a play on words since Kimo is a Hawaiian name and apparently an urban short form of kemosabe.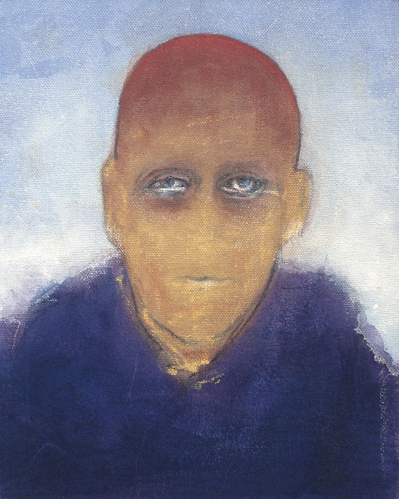 ETH-2640 "Kimo" 8x10 pencil & acrylic 2016
And here's an "in progress" look at a more academic piece I started today.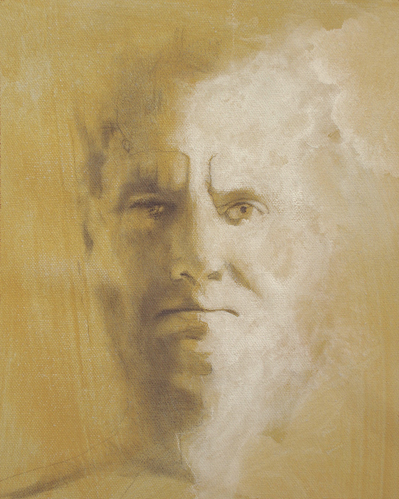 ETH-2643 "Heroic Failure" 8x10 pencil & acrylic 2016



06-05-16:
I have 4 pieces in the Rochester Contemporary Art Center 6x6 show again this year. I'm sure you could figure out which are mine, but here's a hint:
ETH-2619 "Counter Function" 8x10 pencil/acrylic 2016 [Private Collection] Da Vinci supposedly said, "Art is never finished, only abandoned." I can attest that there have been quite a few pieces that I let sit thinking it needs something more only to forget about them once I've moved on to new work. It also helps having another artist around for their perspective. Roland said this was done,so...
ETH-2632 "Ring True For You" 8x10 pencil/acrylic 2016 [Private Collection]



05-29-16: Plans change..
I was thinking of trying a portrait in the style of an artist that I really like. The main idea was to feature a finely rendered eye, and the rest of the piece done in strong broad color. But when Roland saw the sketch and underpainting, he thought I should stop. I had already thought the same, so...
ETH-2637 "Going To See The Elephant" 8x10 pencil/acrylic 2016
I still wanted to try the initial idea, so I started another portrait. It's not finished, and I think I strayed from my original intent, but I like the possibilities...
ETH-2638 "Superiority Complex" 8x10 pencil/acrylic 2106



05-22-16:
Worked on getting two peices ready for a local group show, and three pieces for West End Gallery. Plus, finished the one I posted recently, and another one with more of a street art look, again.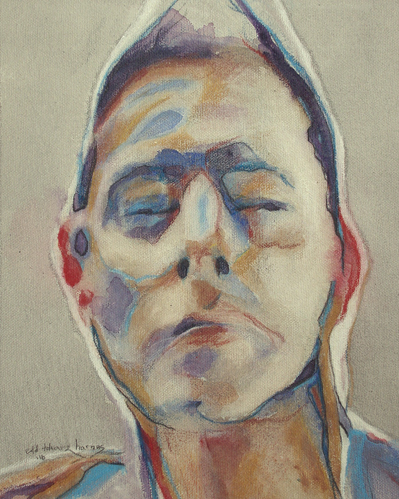 ETH-2633 "Haole Kabuki" 8x10 pencil & acrylic 2016
ETH-2636 "Wenn Es Wie Eine Ente Spaziert.." 8x10 pencil/arcylic 2016



05-15-16: Sometimes, they just happen..
This one just fell into place.
ETH-2634 "Anthropomorphize" 8x10 pencil & acrylic 2016



05-08-16: Nothing finished yet..
A couple still in progress. Like this one..
ETH-2633 "Haole Kabuki" 8x10 pencil coloured pencil & acrylic 2016



05-01-16:
I was working, still, on a piece I want to enter in an upcoming show here. It's not quite where I would like it to be. Or maybe I just have to get used to it!
Here's a different piece, which is looking like a series could be happening...
ETH-2630 "Another Boy With Striped Hair" 8x10 pencil & acrylic 2016



04-24-16: The routine..
On Sunday afternoons, I update my jpegs of current artwork, photoshopping for colour balance, cropping, etc as I prepare an entry for this blog. At the same time, I also review the art files I have downloaded through the week. These are artworks that I found intriguing or influential on some of the blogs I follow. In some cases however, there is no artist name and/or title, so I then do a Google image search to see if I can find this information. Often, the artist's website is part of the results returned.
So why do so many artists have "difficult" websites? Once you get past those Flash introductions, some sites are compartmentalized by year, genre, etc. Or one image at a time?? Who has all day?
Now some of you may think my site is dull or underedeveloped. But when you realize that the typical website visitor looks for an average 20 SECONDS(!), then you'll understand why I avoid unnecessary links. It's all there, as fast as your browser can load it. Sometimes, plain ol' HTML is best.
On to the artwork, here's one I hope to get in another local show coming up.
ETH-2623 "Zero Grazing" 9x12 pencil & acrylic 2016



4-17-16: What does it mean?..
I remember this woman who used to drop in years ago and check out recent artwork. She was a bit of a character, truly interested in art, but a bit confounded by whatever was transpiring on the "modern scene". Her catchphrase was, "Yeah, but what does it mean?"
Those words came to me as I was preparing today's blog entry. And my response is "It doesn't HAVE to mean anything."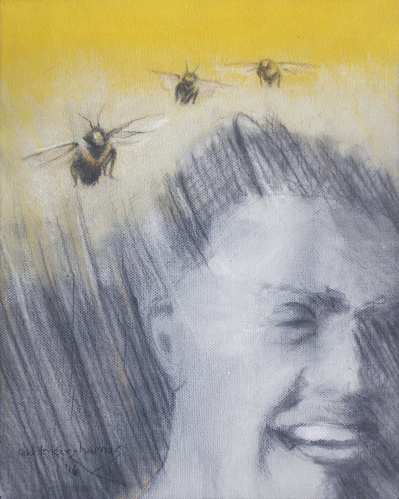 ETH-2624 "Monkey Smuggler" 8x10 pencil and acrylic 2016



04-10-16: Value?
Had a short errand at the nearby mall this afternoon, and checked out the expansion. It's been open for a few months but I didn't have any reason to go until today. I discovered no real reason to hurry back. For fun, checked out a couple of items at a big name store: $315 for a basic-looking short sleeve shirt??! And I had to look twice at the tag on a light jacket to make sure I read it correctly... (4 figures!) I came away thinking how undervalued artists are.....
Anyway, here'a a recent piece completed this weekend.
ETH-2622 "Ghost Girl" 8x10 pencil & acrylic 2016



04-03-16:
Played around with the same 3 or 4 pencil pieces I've been working on for the last couple of weeks. A couple might see the light of day; one is definitely getting gessoed over later today!
In my regular blogs that I follow, I saw a couple of great pieces by artists new to me. That always serves to inspire me while at the same time, makes me feel inadequate. I'll get over it.
Also started the first oil in quite some time. I've always thought I was better at drawing than painting, and especially felt evident as I struggled to get back into it. But it looks promising, so I'll post it eventually.
Meanwhile, here's another recent piece...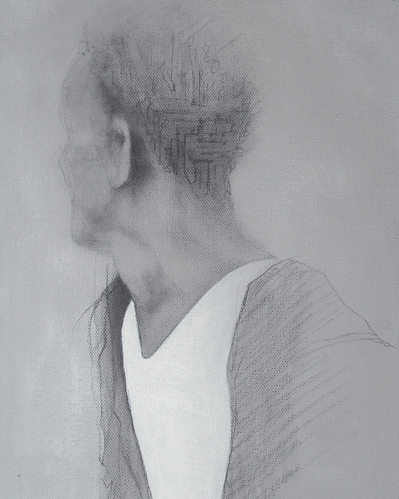 ETH-2599 "Treppenwitz" 8x10 pencil & acrylic 2016



03-27-16:
I have two works in the Association of Hawaii Artists current show for the next few weeks.
Still working on the cow and a few others, so here is a piece from a few weeks ago.
ETH-2618 "Cheap + Cheerful" 6x6 pencil & acrylic 2016 [Private Collection]



03-20-16:
It's been said that a good artist knows when to stop working on a piece. Sometimes that is quite easy to determine; other times, not so. You think: maybe I can make this just a little bit better, a little more dynamic, etc. Which is where I am at with this cow!...
It's almost done, I think...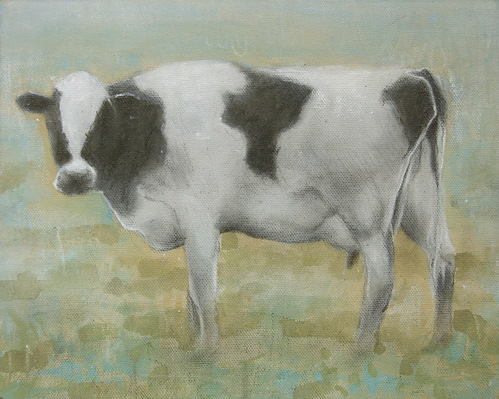 ETH-2620 "Cow" 8x10 pencil & acrylic 2016



03-13-16:
Two pieces were accepted into the upcoming 46th Annual Aloha Show with the Association of Hawaii Artists opening later this month. More on that later..
Also working on a couple of pieces for the Rochester 6x6 show; deadline is approaching!
And here is a small piece just finished.
ETH-2616 "Playground of Hypocrites" 8x10 pencil & acrylic 2016



03-06-16: A crazy week..
I'm glad I have my quiet art time to compensate..
Some recent pieces: one that slowly evolved, and another that is just starting.
ETH-2595 "Visual Agnosia" 8x10 pencil & acrylic 2016

,P. ETH-2617 "Dukhobor" 8x10 pencil & acrylic 2016



02-28-16: The occasional oil..
Some of the different blogs I follow introduce me to new and interesting artists from around the world. A recent find was Alfio Giurato. I was especially taken with "Ritratto Di Famiglia".. the tight monochromatics and painterly style.
Since I usually paint fairly thin, I felt I should try to emulate this style and see where it leads, which is the first image. It's followed by a recent pencil/acrylic piece.
ETH-2615 "The Shill" 8x10 oil 2016
ETH-2614 "Mark Of Cain" 8x10 pencil & acrylic 2016



02-21-16: Quick sketch..
Don't have anything finished to show from this week. But here's a recent "quickie" sketch that I really like.
ETH-2612 "To The Person Sitting In Darkness" 8x10 pencil 2016



02-14-16: A-ha..
This one was an "a ha" moment. Some loose ends (as far back as 1968) started to come together. And although it sorta looks like Bowie, it is not based on him. Coincidence..
ETH-2610 "Enter The Market With Helping Hands" 8x10 pencil & gesso 2016



02-07-16:
I bookmark several artists' websites or blogs that I find interesting or inspiring, and I check them out from time to time. This past week, I went through most of the list and it seemed like 2/3 of them were very out of date, some two years or more. So now I don't feel so guilty if I miss a week here!
The first piece is still in progress, but I'd like to enter it in an upcoming local show. We'll see..
ETH-2607 "Eye For Eye" [in progress] 10x12" pencil and acrylic 2016
ETH-2605 "And How Do You Find.." 8x10 pencil and acrylic 2016



01-31-16:
This one uses a lot of thinned white gesso to build up the background.
ETH-2604 "Sit. Good boy!" 8x10 pencil gesso & acrylic 2016



01-24-16:
A quiet week here. Finishing up a few pieces including this one..
ETH-2600 "Meritorious Price of Our Redemption" 8x10" pencil and acrylic on canvas 2016



01-17-16:
Another show that I'm working toward is the annual 6x6 fundraiser for Rochester Contemporary Art Center. More small works! Here's a little sketch from yesterday..
ETH-2598 "Marrano" 6x6 pencil/acrylic 2016 [Private Collection]



01-10-16: An annual tradition..
It's almost that time of year for West End Gallery's "LITTLE GEMS" show. Probably my favorite show since I tend to do a lot of smaller works anyway. This is one that has already been shipped there..
ETH-2580 "Cross the Line" 5x7" pencil/acrylic 2015



01-03-16: Happy New Year..
Here's one of the first faces of the year..
ETH-2593 "The Boy With The Striped Hair" 8x10 pencil/acrylic 2016
Roland has also been admiring the elephant (in progress) from the last post. He is even more amazed that I am able to draw it from the photo that a friend took last year on safari. When you see the photo, you'll understand why he says that. He even thinks I should post the working photo from other pieces to demonstrate how I pull images from them. Maybe I will do that, this year..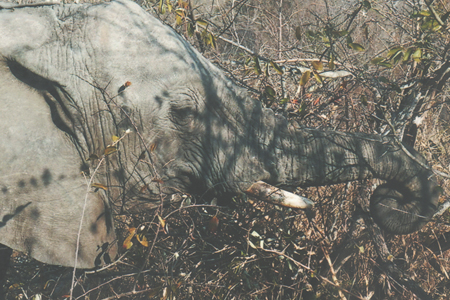 12-27-15: Another elephant..
Right around the time I finished "Trigger Warning", a friend showed me photots she shot on a recent safari in Africa. There were elephants of course, and there was one shot I really liked. So, I'm working on that at the moment.. here's an 'in progress' look.
ETH-2592 "Theophant" in progress 12x16 pencil on canvas 2015



12-20-15: Crazy Busy, huh?
So who has time to get some artwork done around now??
This time around, we'll look at some progress pictures of a piece that may very well be done. I haven't really worked on it for quite a while, months even. Just not sure where it needs to go next. But it does incorporate more of the pencil on canvas that I have been doing recently.
ETH-2565 "Laudato Si" 16x20 mixed media 2015



12-13-15: What's on your wall?
Sometimes I visit a new place (business or residence) that displays one or two LARGE art pieces. In most cases, if it's modern or trendy, I'm easily unimpressed. What does captivate me is a salon style grouping of art, which is what I've generally always done. Especially when I have a lot of inventory on hand.
I enjoy looking at clusters of work, and the more varied the better. The other display idea that I always promote is to "rotate your art". I'm frequently moving mine around, filling in gaps when a piece goes off to a gallery or buyer. This freshens things up considerably.



12-06-15:
Playing around more with the whole pencil/acrylic on canvas thing. I like where this went..
ETH-2586 "Fortune-Telling" 5x7 pencil & acrylic 2015



11-29-15: Thank you..
First of all, a big thank you to those who supported me on Small Business Saturday as a few more pieces go out into the world.
Another pencil study for the Little Gems show and a new seascape, the first in quite a while. In that piece, the wave in the background is very detailed and realistic. The foreground I left looser and impressionistic.
ETH-2582 "Entrainment" 5x7 pencil & acrylic 2015 [Private Collection]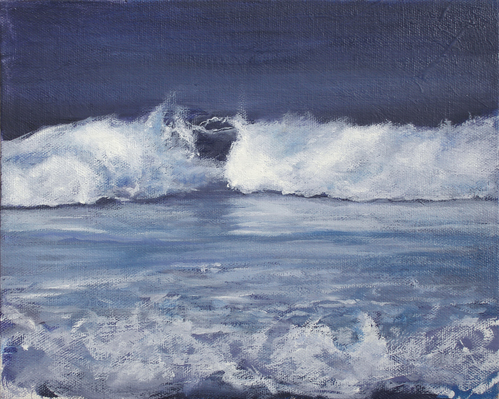 ETH-2584 "Anahata" 8x10 oil 2015



11-22-15: Little Gems..
Started working on some small pieces for the next show at West End Gallery. I incorporated more acrylic color into the couple I just worked on. And the pencil is a little softer.
Also re-sized some previous images to be more mobile friendly.
ETH-2579 "Train Gone" 5x7 pencil & acrylic on panel 2015



11-15-15:
For all practical purposes, I think this one is finished. (Now to turn my attention to some "little gems"...)
ETH-2578 "August Master of Beauty" 8x10 pencil & charcoal 2015



11-08-15:
The elephant got a rather nice reception at West End Gallery recently. Sent some face drawings to see how those go.. like this one:
ETH-2576 "I Guess What I'm Saying" 8x10 graphite & charcoal 2015
Started working on a Whitman portrait as well...
ETH-2578 [Whitman in progress] 8x10 graphite & charcoal 2015



10-25-15:
I forgot what this title is supposed to mean, but it was in my list of possibilities, and seemed to fit..
ETH-2574 "Thru Austrian Windows" 8x10 pencil & acrylic 2015



10-18-15:
Back from a little trip, including a visit with Jesse and Lin at West End Gallery. We talked about portraits of smokers. Like this recent piece...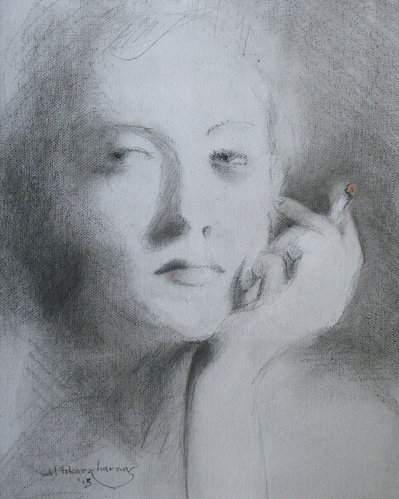 ETH-2571 "Hoped For, But As Yet Unseen" 8x10 pencil 2015 [Private Collection]



10-04-15:
Sticking with the drawing media for the time being. This is the first nude in pencil on canvas, with acrylic wash for accents. Also including an update of a portrait posted earlier -- I've fine tuned it a bit more.
ETH-2573 and ETH-2569 [currently untitled] 8x10 pencil & acrylic 2015



09-13-15: More with pencils..
Worked on last week's face a little more today. Also drew this elephant that I'm thinking of entering in a local juried show later in the month. Was talking with a friend the other day about coincidences, and this elephant is a good example. I had read an article the other day about a woman who started an online movement to help a chained elephant in a zoo someplace like Afghanistan. Then when I was looking through some pictures for inspiration, I came to one of an elephant in our local zoo. The third coincidence came when I put in a disc of different movies to watch last night and after a short feature, "Water for Elephants" came next. Just sayin'...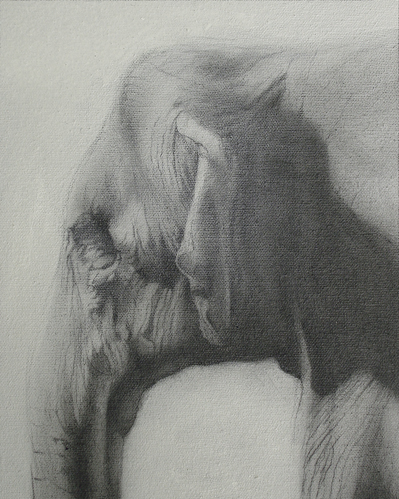 ETH-2567 "A Bridge" 8x10 mixed 2015
ETH-2570 "Trigger Warnings" 8x10 pencil/acrylic 2015 [Private Collection]



09-06-15: Working things out..
Taking a break from painting for a bit and turning to drawing this week. Actually mixed media in these cases. Also, the week ended on a frustrating note, so the work reflects that. Therapy?
The first is an 8x10 study, the second will be an 8x10 gallery wrap.
ETH-2567 "A Bridge" [2 versions] 8x10 pencil & marker 2015



08-23-15: Staying busy, and cool..
This is the final week for the Association of Hawaii Artists' 44th Contemporary show downtown in which I have two pieces: "Droeste Tourist" and "Paradox and Parables".
Then I pack up a couple of pieces to update West End Gallery. This is one of them..
ETH-2563 "Prospecton" 8x10 oil 2015 [Private Collection]



08-09-15: Latest face..
A hint of melancholy (sums up my day..)
ETH-2562 "Griffinage" 8x10 oil 2015
Made a little change to this page because my stats were showing WAY too many hits from "suspicious places". Maybe that will confuse the spiders and bots for a while...



08-02-15: Patience..
It's always difficult getting a decent impression of art from a website, let alone one that come up on your phone. I remember seeing works at museums that I previously had only known from books. Rarely did the books do the artwork justice, in color, or scope.
Still, I try to make the image represent the original as best as possible. In this case, I had to take a photograph three times, before I could tweak the colour to about 90-some percent accuracy.
ETH-2561 Study: prancer 8x10 oil 2015



07-19-15: A trip to the museum..
Went to see the Artists of Hawaii 2015 show today, just to see what is happening. Call me old-fashioned, or what but didn't find too much to be inspired by. I DID like the work of Emily McIlroy, especially the large piece Sky Burial. The rest of the show was typical contemporary art -- trendy and pretenious. I avoid reading all that stuff they post. If I can't look at the piece, figure it and be affected, then not no amount of bs will win me over.
Just sayin'...
Did this small study recently and set it aside thinking there might be something more needed. But I like it as it is..
ETH-2560 Blüver-Bucy 8x10 oil 2015




07-12-15: Too hot to paint..
My energy level was a little low today, so didn't get too much done.
I did have two pieces accepted in the 44th Annual Contemporary Show by the Association of Hawaii Artists yesterday.
And to share today, a progress report that I started last week, and one that's pretty much done.
ETH-na [currently untitled] 16x20 mixed 2015
ETH-2555 "Leave Room For Nature" 8x10 oil 2015 [Private Collection]



07-05-15: Still busy..
Still working my 64 Hours supplemental video, but I started a new piece today. Because I don't think I'm that good at painting, I thought I'd try a mixed media approach on this one; starting with pencil and coloured pencil.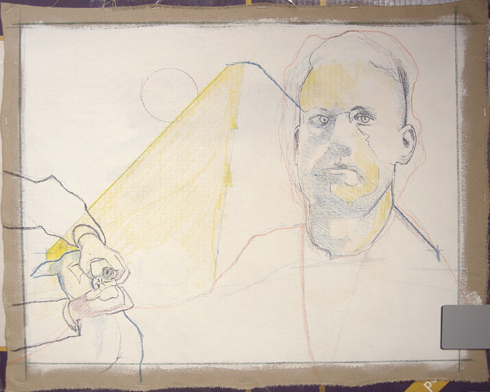 ETH-na [currently untitled] 16x20 mixed media 2015



06-28-15: June has been busy...
Working on a video for 64 Hours has taken a bit of time these past few weeks. But I had time to finish a couple of portraits...
ETH-2558 "Misled" 8x10 oil 2015
ETH-2559 "Someone To Look Down To" 8x10 oil 2015



05-24-15: An oldie..
At the house where I used to live in Corning, we had a trellis with Dr Van Fleet roses well established all over it. I remember how they would bloom in early June with a delicate pale pink and were some of the earliest blooms of the summer garden. I did a large acrylic piece based on some of those blooms one year. Since I rarely do large pieces anymore (due to space contraints) I'm kinda amazed to look at this piece and remember how much time and energy went into it.
ETH-0663 "Dr Van Fleet" 25x40" acrylic 1990
I sent some small faces to the the 6x6x2015 exhibit. I'm part of hundreds of artists submitting 6" square work to benefit the Rochester Contemporary Art Center.
Here's one of them..
ETH-2538 "face022215" 6x6 oil 2015 [Private Collection]



05-17-15: faces..
These faces have been piling up over the last few years. Not all of them have been collaged into 9-face 18x24 collections, and a lot probably won't. I've only got so much space! Will have to sort through them, maybe put a few up for sale, and toss the ones that didn't meet my expectations. Here's the latest that Roland especially likes:
ETH-2556 "Free, to a good home.." 6x8 oil 2015



05-10-15: Busy with another project..
Sorry. No new artwork completed. I was busy this weekend working on my video contribution for 64 Hours in August. Here's a portrait from a few weeks ago.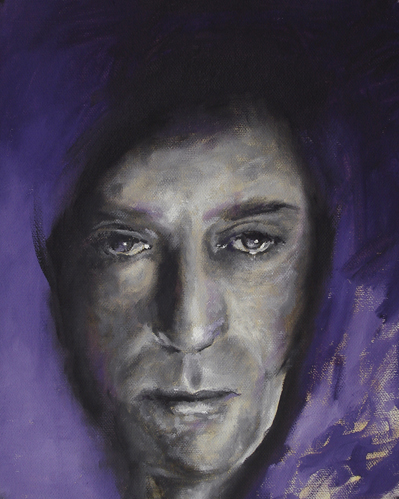 ETH-2540 "Deeds,Not Words" 8x10 oil 2015



05-02-15: Etsy..
Some spring cleaning, and an update to my Etsy account..
including the piece below.
ETH-2545 Study: to the left 8x10 oil 2015 [Private Collection]



04-26-15: Different approaches..
Two different approaches in one day's work..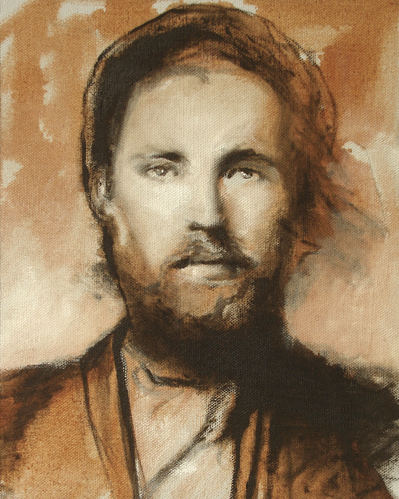 ETH-2552 "The Seeker" & ETH-2553 "Strange Fire For Azazel"
8x10 each oil 2015



04-12-15: Replacement..
For the smoker that sold?
ETH-2548 "Down A Quart" 8x10 oil 2015



04-05-15: For a new show..
This piece is off to West End Gallery
for the next show.
ETH-2546 "A State Of Exception" 8x10 oil 2015




03-22-15: Keeping busy..
ETH-2541 "The Smell of Morning" 8x10 oil 2015




03-15-15: 6x6..
One of the projects I've been working on is getting a few pieces ready for the 6x6 show in Rochester, NY.
Here's a little piece I plan to send..
ETH-na [face 031415] oil 6x6" 2015



03-08-15: I'm thinkin'..
Maybe, a series here...
ETH-2539 "You Never Know When You're Gonna Make History" 8x10 oil 2015



03-01-15: IMHO
And it was filled with that self-aggrandizing mumbo jumbo that artists like to cram into Artist Statements and catalogs anymore that definitely turns me off. Did Impressionist or Renaissance artists indulge in this same ego puffery?

Perhaps, but it seems to be an art form unto itself anymore. I would rather know that the artist had an argument with their spouse, or were concerned about some world event, or even had a lousy commute to the studio.

That tells me more about their art making than any tedious self analysis.

I am intrigued to know Johns dreamt of painting an American flag and any other such triggers that lead to great works of art.

Why can't we just look at it for ourselves and decide if we like it and it has merit?





02-22-15:
One of the faces headed to West End Gallery
for the next show.
ETH-2535 "Dreams of Saying Yes" 8x10 oil 2014



02-15-15: Worked on the hat..
ETH-na [Droste project, in progress] 16x20 oil 2015



02-08-15: Progress Report..
Another tourist in Waikiki, in progress...
ETH-na [Droste project, in progress] 16x20 oil 2015



01-04-15: Recently..
ETH-2532 "Psychopomp" 8x10 oil 2015



12-28-14:
Looking forward to a Fantastic 2015 with more artwork to share..



12-21-14:
Switching back to ballpoint pen for a change..
ETH-2526 "Strange Loop" 9x12" ballpoint pen 2014



12-06-14: Went for the detail on this one..
Normally on these smaller portraits, I try to accomplish some in just one session. On this one however, I went for greater detail and took my time. Here's how it unfolded over a couple of sessions..
ETH-2525 "The Sons of Freedom" 8x10 oil 2014



11-23-14: Done?
This one has been "done" for a few weeks now, and I just happened to have a great frame laying around.
Roland thinks it's great piece; I'm not as satisfied. But we'll leave it on the wall for a while and see what I think in a couple of weeks...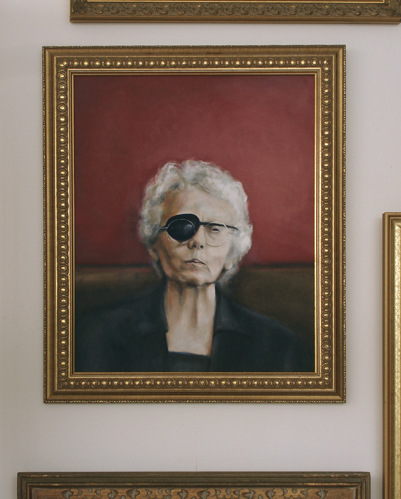 ETH-2519 "Parables and Paradox" 16x20 oil 2014



11-09-14: Finished..
Finished, as far as I can tell, two portraits this weekend. Here is one of them..
ETH-2520 "Cosmic-Sadness" 8x10 oil 2014



10-26-14:
Still working on the woman with the eye patch. There is a precise expression and attitude that I'm trying to capture. Getting close, happy to say..
Meanwhile, a recent small study.
ETH-na "face 102514" 6x8 oil 2014



10-19-14:
The woman is a piece I started last week. I'll provide some progress reports soon. The monochromatic piece is a little study from this morning.
ETH-2519 [in progress] 16x20 oil 2014
ETH-na [face 101914] 6x8 oil 2014



10-12-14: I'm back..
A vacation, with four museum stops and lots of inspiration, is concluded.
Getting back into the routine, and working on a very interesting piece.
It'll be a little while before I think it's where I want it to be, so..
a little piece from a while back that never got blogged. I always liked how this one turned out..
ETH-na [face 120812] 6x8 oil 2012



9-21-14: These things can't necessarily be planned..
Sorry -- been busy with a variety of things. And the weather has felt hotter lately due to the lack of trades, so I've also had some lazy periods too. Today's piece was finished recently. It is not the way I had envisioned it.

I was thinking it would be whiter, more cloudy; but I hated covering up too much of the pencil work. So, a comprimise..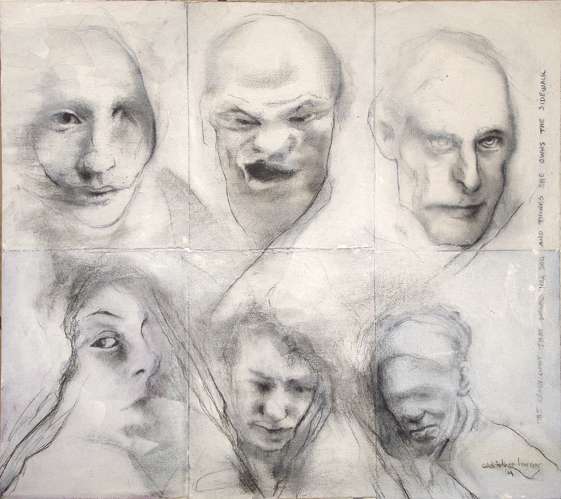 ETH-2505 "The Crazy C*** That Walks The Dog and Thinks She Owns the Sidewalk"

16x18" pencil and acrylic 2014



08-31-14: Selfie?..
Updating the piece from earlier in the month. Worked up the baby portion with a few tweaks elsewhere.

Time to hang it on the wall and live with it for w while..
ETH-2513 "Das Alles Geschach Bevor. Es Ist Nicht Neu." 11x14 oil 2014



08-10-14: Switching Gears..
There is the possibility (IF I get my act together in time) that I will include some work in a Hawaiian-themed group show. More on that if it materializes. I have some works on hand that would fit the theme, but I was hoping for some new pieces. And here's the first one..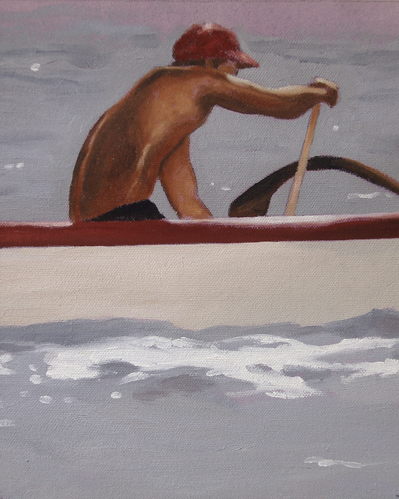 ETH-2514 "Algedonic" 8x10" oil 2014

And as a bonus, here's recent portrait study that I like..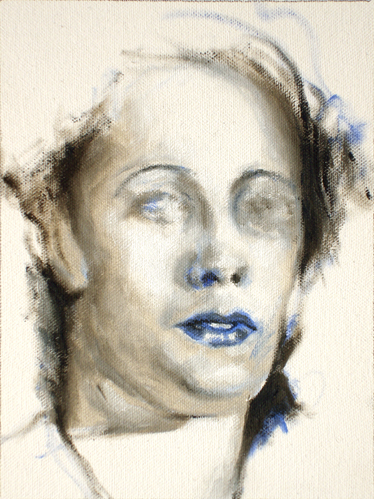 ETH-2512 "Cold War Baby" 6x8 oil 2014



08-03-14: Phase one..
Started this piece quite a few weeks ago that is a combination of one of my baby pictures with an old photo I saw on the internet. Laid it all out and did a basic underpainting, and then wasn't sure where to go with it next.

Today I was inspired to go in with some basic colors and brushwork, and I like where it ended up. Time to let it sit for a while before I see if and how much detail I want to add.
ETH-2513 "Das Alles Geschach Bevor, Es Ist Nicht Neu" 11x14 oil 2014



07-27-14: Keepin' it monochromatic..
Keeping the paint layer thinner on this one; hopefully not as muddled as when I try to get painterly, like I mentioned the last time.
ETH-2510 "Study: youth" 8x10 oil 2014



07-20-14: Another face..
I generally feel that I am better at drawing than painting. Especially when it comes to a "painterly" style in oil. With the slow drying time, it usually seems to get muddled. In this face study, I approached it more as drawing with a brush, and felt more in control.
ETH-2509 [currently untitled] 6x8 oil 2014



07-13-14: Another one finished...
I was looking at a couple of websites earlier today of artists that I like, and was surprised at how long a couple were not updated. Under a header of NEW, one mentioned an upcoming 2012 show. I felt a little bit better that I at least update a couple of times a month. I've been taking some projects a little slower, and when you're working with the drying time of oils, that can be a couple of days in between sessions.

I also spent some time cleaning and organizing, and tossing out some pieces that just didn't work. Today, I present a finished nude..
ETH-2507 "Study: shiny cheek" 8x10 oil 2014



6-29-14: Different stages...
I have a couple of pieces at different stages of progress. I started this nude. last week thinking it might have a nice alla prima look.. but it wasn't working! So after that layer dried, I resorted to some glazing and overpainting. It's closer to where I want it to be, but still a few more muscles need reworking.
ETH-2507 "Study: shiny cheek" 8x10 oil 2014



06-15-14: Light and Dark..
The first piece is grouping of smaller 6x8" portraits that I have not done for quite a while; they're easier to store in single pieces! This grouping all started as pencil drawings, and I envisioned that they end up with a white and/or silvery overall tone. I'm accomplishing this through a series of acrylic washes, building up slowly. In contrast, today's other piece is a very dark small portrait study.
ETH-2505 "..She Thinks She Owns the Sidewalk" [in progress] 16x18 mixed 2014
ETH-2504 "In a Dark Place" 6x8 oil 2014



06-08-14: Latest face..
ETH-2503 "Cheyene Kapusta" 6x8 oil 2014



06-01-14: One of my projects..
I mentioned a couple of projects in some previous weeks; both paintings have been delivered to their new homes. One was for Adriana - a belated birthday present that captures a couple of her favorite movie stars.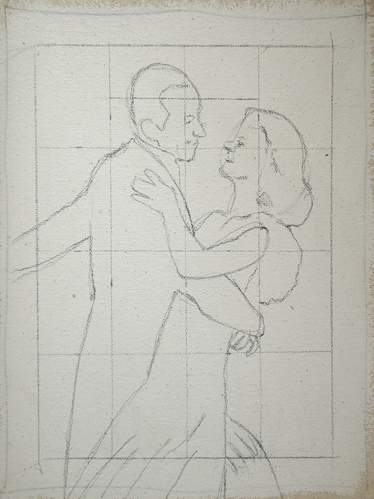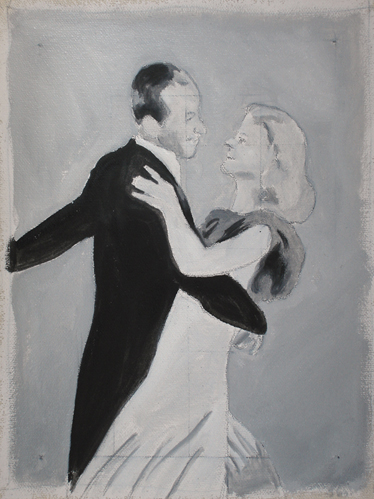 ETH-2498 "Fred & Ginger" oil on canvas 6x8" 2014



05-24-14: Contact..
Due to a serious spamming issue, I need to restructure how visitors to my website can email me. Since links and forms invite too much spam, the alternative is the good ol' fashioned way of manually addresing your email:

contact at this domain.

Sorry for the inconvenience, but it seems the best

alternative.



05-11-14: Follow the progress..
Worked on this figure study this morning. I'm including a couple of progress shots so you can see how it evolved.
ETH-2501 "Study: seated" 8x10" oil 2014



04-13-14: One project done..
..another one to start. This is good. Plus I had time to work up a study yesterday. I might try to re-do this on a larger scale..
ETH-2499 "Study: leaning" 8x10" oil 2014



03-30-14: Still busy...
msic face studies 6x8 oil 2014



03-16-14: So what was my excuse?
Busy lately with a couple misc. personal projects AND some much needed Spring Cleaning around the place. But I managed a nice nude study which will go up on my Etsy shop when it's dry!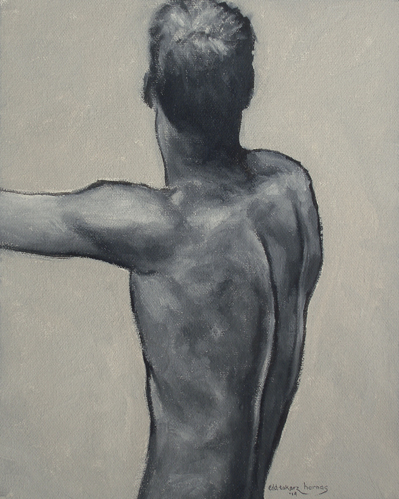 ETH-2497 "Reach Out and Touch" 8x10 oil 2014



03-02-14: Recent..
Sending a couple recent portraits to West End Gallery..
ETH-2479 "These Are Your Trohpies"

ETH-2495 "Derek and the Domino Theory"

6x8 each oil 2013



02-16-14: Another dog..
ETH-2492 "We Will Not Be Silent" 6x8" oil 2014



02-09-14: a new nude..
No face this time; but other areas of the anatomy for a change..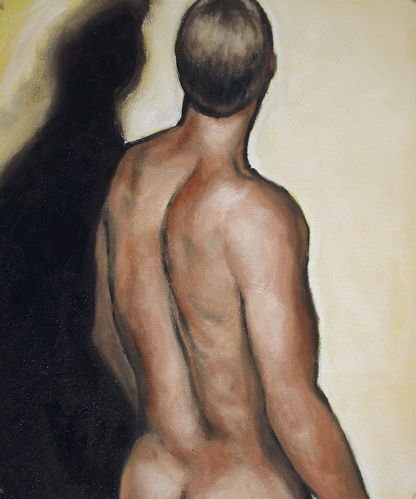 ETH-2491 "Spirit Wrestler" 10x12" oil 2014



02-02-14: Little Gems, etc..
It's the annual "Little Gems" show at West End Gallery, and this year,

my contribution revolves completely around the face series of the last couple of years. One of the pieces submitted is more atypical of what most think of as a portrait.."Clever Hans Effect" from January 12th entry.

A couple other recent portraits (NOT in the show) round out today's post.
ETH-2488 "Rose of Sarin" 10x12 oil 2014;

ETH-2477 "Abraham Lincoln" 6x8 oil 2013



01-26-14: Quick post..
Fighting off a cold, so mostly resting the last couple days. Here are two faces in the meantime..
ETH-2484 "The Twelve Conclusions"

ETH-2485 "Unintended Consequences"

6x8 each oil 2014



01-12-14: I'm back..
The commotion of the holidays is over, and my new computer is [mostly] set up, so it's time to get some new work posted.
ETH-2482 "Clever Hans Effect"

ETH-2843 "Hookers and Blow"

6x8" oil 2013-2014



12-15-13: Update..
Tweaked the website (main page) and got in a couple portrait studies..
[misc face studies] 6x8" oil 2013



12-08-13:Progress...
Finally decided "Tourists" was done just the way it is, so I signed that and finished a small piece for Christmas. Plus a couple more faces, below. Also started on an idea that will revamp the website. It was originally set up for selling, more has evolved into more of a portfolio type website.

So, I'll be combining more onto one page.. for folks who like to scroll on their mobile devices!
ETH-2476 "Zinc Finger Nuclei" 6x8" oil 2013



12-01-13: A different tone..
Recently working with Raw Umber and White instead of the usual Black and White. I like the way the Raw Umber "greys" out when adding White instead of just lightening..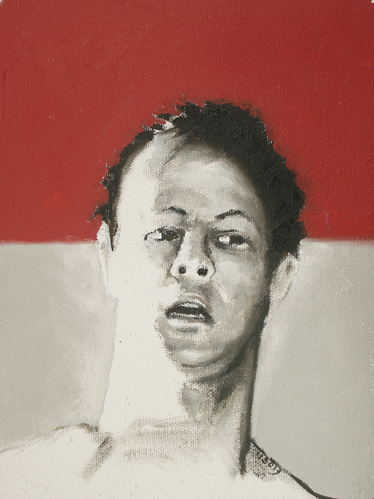 ETH-2474 "False Flag Operation" 6x8" oil 2013



11-24-13: Recently completed..
ETH-2473 "River Blind" & ETH-2487 "Find Out Who You Friends Really Are"

each 6x8" oil 2013



11-17-13: More skin..
I've been doing lots of the face studies recently. But apparently it's been too long since doing a nude.

I gravitated toward a couple of poses showing more skin..
ETH-2472 "Study: squat"

6x8" oil 2013



11-10-13: Still at it..
Something new..
ETH-2468 "Enough Is Enough" 6x8" oil 2013



11-03-13: Recent work..
Including an interesting little progress demonstration..
ETH-2465 "Blickt Er Mir In Die Augen" oil 9x12 2013 [Private Collection]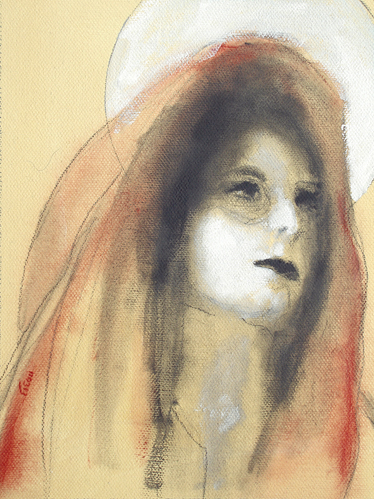 ETH-2464/2466 "Section 86a" / "Anarchists Crowd the Area" 6x8 oil 2013



10-27-13: More recent studies..
ETH-2462 "Unaccomdoated Man" 6x8 oil 2013

2 face studies 6x8" oil 2013



10-20-13: Apparently..
Yesterday, I went through a "violet period.."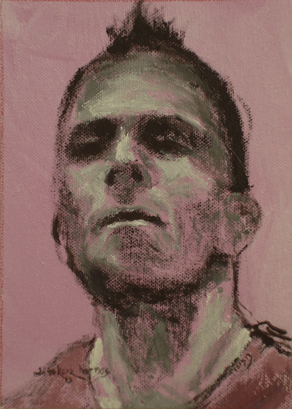 ETH-2460 "Tonkin Ghost" 6x8 oil and

face 101913 6x8 oil 2013



10-06-13: more on "The Face Phase"..
ETH-2457 "The Anchorite Wannabe" & "face 100513 HCA" 6x8" each oil 2103



09-29-13: Filling a need..
For some time, I've been reading and hearing about how successful businesses "fill a need." It's something I think about as a result so that I can figure out if I'm heading in the right direction.

Then I read a review in today's paper for a local contemporary show with all kinds of fancy interpretations and supposed meanings, and perhaps a certain amount of convoluted b.s. Artist's statements and art reviews:

I generally just don't get it most of the time. Seems over-indulgent to me..

So.. while broadening my bank account is not disagreeable, I DO take satisfaction that people find my artwork pleasing, or at least interesting to look at. If you derive the same satisfaction that I get looking at some of my favorite art blogs, then I suppose a "need" has been met. Maybe it's as simple as that..

And with that, a recent work to share with you.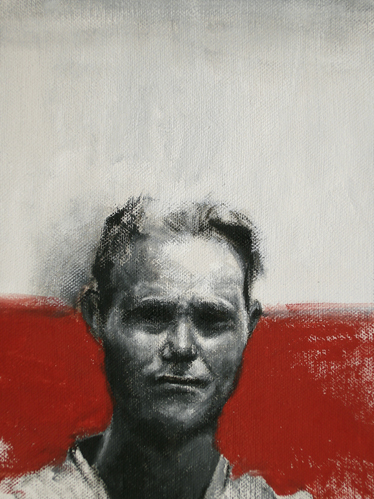 ETH-2454 "Taught To Waste His Life" 6x8" oil 2013



09-22-13:
The sepia toned portrait is the latest for a planned series of individual face that I'm planning to show at

West End Gallery in the near future.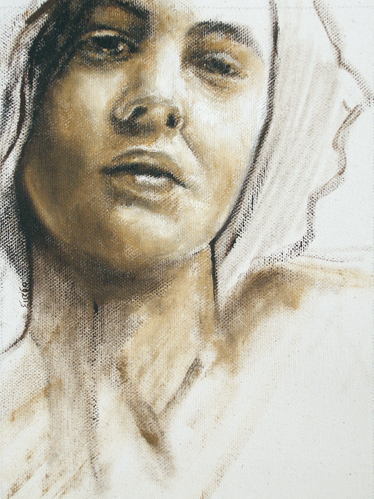 ETH-2452 "Not As Easy As It Looks" 6x8" oil 2013



09-15-13:
ETH-2451 "The Combover Mohawk" 6x8" oil 2013



09-08-13: Latest..
Two new pieces for an upcoming "project"...
ETH-2447/2448 "Rales"/"Way of the Sly Man" 6x8" each oil 2013



09-02-13: It's Labor Day..
I didn't go to work today.. I just painted.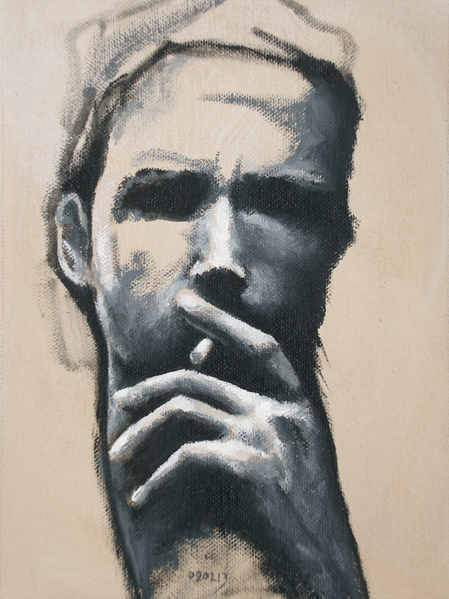 ETH-2445 "Negativ Concorde" 6x8"+ oil 2013



08-25-13: Back in the saddle again..
All fired up to do some more faces. A couple from today, and a couple done before my trip.. one is a pencil experiment that I like the looks of.
ETH-2443 "Well Wrested" 6x8" oil 2013
08-11-13: a quickie..
A little under the weather as I prepapre for a short getaway to visit family..

so a quick progress report on "the tourist" piece.
ETH-2440 "Tourists" [in progress] 12x16" oil 2013



08-05-13: the white picture..
When Roland saw this piece, in progress, he started telling that it is really done. "An exercise in reserve," he said. He loves the simplicity of the composition and doesn't want to see it overworked.

At first I was quite skeptical. It's one thing to leave a painting loose, like "Portrait of the Artist, Pissed Off By A Variety of Things." [Sept 12, 2011 blog posting]

And that loose-ness cost me a chance to show in a portrait competition when the judges argued over whether it was finished.

So I'm thinking, maybe it's time to get crazy again; challenge viewer's notions of when a painting is finished: when I say it is, or when they expect it. Oh, there ARE some areas that I still want to work on, but...

The "tourists" painting IS progressing nicely, and will get more detail.
07-28-13: progress report
This one is coming along now that I have added more underpainting.

Work on the the clothes next, and any details.

More later..
07-21-13:
I've been pretty busy with a lot of things lately, including my "day job," so not much to update. It was also good to get out and see some new artwork at The Honolulu Museum of Art
A new show features works that Georgia O'Keefe and Ansel Adams made while in Hawaii, as well as a new show in the Contemporary Gallery which some interesting pieces. I was especially taken with the technique Melissa Miller used in her piece "Leopard Dance."

As usual, a few more faces this week, with a bit of a departure. More drawing especially the profile which is all pencil, no paint. I want to do more with the smudging!
A reminder: my artbook "On Speculation" is still available online.



07-14-13: A different sort of Hawaiian scene..
In Waikiki, I am surrounded by tourists from all over the world.

You often cannot walk a block without hearing a different language.

OKne of the pieces I started this weekend is a little "homage" to the local tourist industry -- based on one photo from a bunch I took at the beach one day as I was waiting to get some sunset shots.

In this one, some people just happened to walk in the shot, and I would have deleted it.. but it just turned out to be too much of a happy accident.

Here are two shots from the early phases.
ETH-2440 "Tourists (in progress)" 12x16 oil 2013



07-07-13: Have I been busy?..
Perhaps.. just not necessarily with artwork.

Sure, every painting day starts with a small 'face study' and I've been working on more detail in the blue seascape that I posted a while back. The only complete piece, ready for posting, is based on a random photo I took months ago. Roland likes the ones that seem to have a story..
ETH-2438 "Boys, Waiting" 8x10 oil 2013

And here's a favorite recent face study..
ETH-na face study 6x8" oil 2013




06-16-13: nothing really new..
Nothing really new to talk about this time.

I guess I'll just post a couple of recent face studies though. I still enjoy doing these.

And the six I sent to the Rochester Contemporary Art Center "6x6x2013" sold. So I presume people

enjoy seeing them too.
ETH-na misc face studies 6x8" oil 2013



06-01-13: and we're back..
And in much better shape. And back to the drawing board as they say. A couple more face studies in the past week or so; most have been with a limited black and white palette.

I want to see if I can come up with< a 4 face grouping that looks "intense". I have also added a couple of bigger portraits to the main page that seem to keep a current theme going.

And I did a little piece that will go off to West End Gallery for the next

show this month. As I live across from a canal, I see various forms of paddling all the time:

kayaking, sculling and of course, the popular Hawaiian outriggers. I've already done a couple outrigger pieces, but really wanted to pay homage to Eakins and do a decent sculling piece. But I never seem to have a camera ready when one's out. However, one recent morning, as I looked out the window to check on the weather for my morning walk, I saw one go by. Grabbed the camera, and made sure I got a couple of shots on his way back.

Because it was still pretty dim light and I didn't have a chance to figure out a good angle, I only got a couple of basic shots. But it's a start!
ETH-2436 "Early Morning Sculling" 6x8" oil 2013



05-19-13: not quite there..
The cold is gone, but my energy level hasn't quite rebounded yet. Just did a little bit of painting the last couple of days..
ETH-na face study 6x8" oil 2013



05-05-13: No surprise here..
Working on a couple more small face studies.

I'm again playing around with a couple of "influences" that I've come across in the past. I think this might make for an interesting 4 or 6 face piece somewhere down the road.
ETH-na face studies 6x8" oil 2013



04-28-13: I need to be more spontaneous..
I have a file of face jpegs to chose from when I sit down to start my painting day with a face study.

Today, I was drawn toward two, but started with a face and picture that I wanted to imitate the style of.

For such a small study, it took a few hours to get it pretty much where I wanted. But I still had< some paint leftover, and realized that I had a bigger canvas ready and waiting.

Even though the second face was in color, and I had been painting in black and white, I thought I could just get a rough painting down, and work out the color later.

But after a short period (a fraction of the time I spent on the first little study), I realized that I had a piece I liked, as is. Sometimes, after working on a detailed piece, I like to let loose, and this is just such a time.

Hope you agree..
ETH-2432 "Black Hat Dialogue" 9x12-12x15" oil 2013

I read of the passing of Storm Thorgerson recently, and wanted to comment. His work through Hipgnosis through the '70's was quite influential to me.

The imagery, usually photographic, was both stylishly simple and and yet beautifully surreal at the same time. Although not a "household name," his work has got to be known by most of the world, if only through Pink Floyd's "Dark Side of the Moon" graphics. As a tribute, I'm including one of my favorites..

from Pink Floyd's "Atom Heart Mother."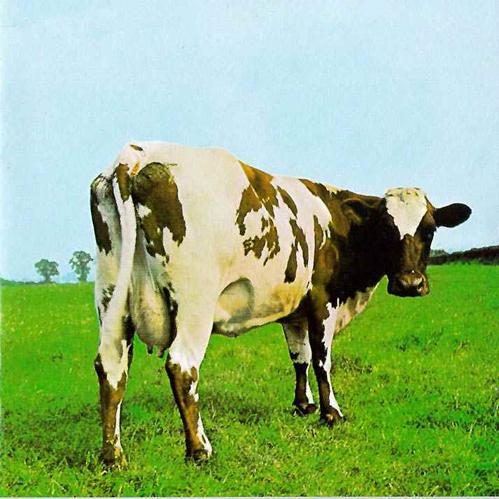 04-14-13: step by step..
The North Shore sunset scene started last week is dry and I'll start figuring out to glaze in the colours

soon.
ETH-na [sunset, in progress] 18x24" oil 2013

This weekend: mostly a few face studies to get started, and then turned my attention to a larger portrait that I have been "experimenting" with.

I have an idea in mind of how I'd like it to look..

but since it's a fairly radical departure from how I normally paint, it's turning into a long, drawn out process. So here it is, so far..
ETH-na [portrait experiment] 18x24" oil 2013



04-07-13: back to the beach..
I thought I'd start on something a little more involved, for a change.

It's based on a sunset photo that Roland took a while back on the North Shore. I'm trying to capture the darker colours of the waning light as well as the bright colours of the sunset.

Since I don't paint every picture in the same method, I had to figure out how to attempt this to keep it crisp and distinct.

I decided that glazing would be the best approach,< so I began by painting a monochromatic underpainting.

Maxfield Parrish often used a blue and white underpainting, which I have imitated in the past, < and felt would work with this particular seascape.
ETH-na [sunset, in progress] 18x24" oil 2013

I had a basic underpainting ready by the end of the weekend. I'll tweak this once it's fully dry, and then tackle the glazing.

More progress reports to come.



03-31-13: Various inspiration..
I surf the web, not the ocean nearby, and I have some favorite daily sites I check out: blogs and arty places that provide some inspiration.

Especially for the face series. I collect a variety of jpegs of interesting artwork that are done in styles other than my own, and in creative color schemes. Two recent favorites are..

Anthony Scullion's "Community Leader" and one by Lance Hewson.

I had them in mind when I did the clown face last week using a distinctive red palette.
ETH-na "face study [red clown]" 6x8" oil 2013




03-24-13: Recent work..
I added a new image to the main page. It is a floral, based on an older photo by Roland. He printed some to make cards, and I liked the deep color and contrast.

It reminded me of the yellow flower bouquet that I did quite a while ago. I like the style of outlining (Van Gogh is probably best known for it) as well as occasionally letting loose (!) and not get caught up in super-modeling the paint.

This outlining turns up from time to time in my painting/drawing, and today's face has some of that going on. Plus I played around with the filters in Photo Shop to get a different look.
ETH-na "face study" 6x8" oil 2013

Next time, when it's dry enough to photograph, I'll show off today's clown face (!)

and the two pieces that influenced the direction I attempted with it.



03-17-13: Happy Spring!
One month ago, I posted a shot of this painting in progress. Here it is in its final state and ready for the next show at West End Gallery.

When they let me know that it arrived all right, I told them that I thought they were ready for a little Spring over in the Northeast.

They definitely agreed! Happy Spring to all [especially if you're in the Northern Hemisphere!]
ETH-2426 "Myrtle Springbound" 8x10" oil 2013





03-10-13: Getting back on track..
Last weekend, I was down with a cold, and not very productive at all (well, I DID catch up on some movies!). And this weekend, I was sidetracked a little trying to catch up on doing my taxes. But these things happen..

I did run into a call for art from a Rochester art center that holds a 6x6 [inch] exhibit/fund raiser.

I was a little familiar with this from the past, but never thought to participate. This year, however, I'm working on a couple of small pieces to submit. And it was obvious that I could adapt the face series to this project The first piece I've done sort reminds me of when they used to mix music for mono and stereo versions, or how a movie made in one language is dubbed for another market. This weekend, after doing a regular 6x8" face "warmup", I did a quick 6x6" version.

So here are two versions based on the same photo:
ETH-na face study 6x8" oil 2013
ETH-na "Face 030913" 6x6" oil 2013



02-17-13: Looking toward Springtime..
Another new exhibit is quickly approaching at West End Gallery and I gravitated toward a beach scene as a possible contribution. After all, Myrtle Beach is a popular Spring Break destination for the West End Galley area. I loosely worked out the basics; still working out the details, which you'll see in a future post.
ETH-2426 "South for Springtime At Myrtle" [in progress] 8x10" (oil) 2013

Also did a couple of faces. This one below is interesting.

When I find an interesting face, I'll tweak and crop etc in Photoshop; sometimes, I experiment a little with the filters. I forget exactly which one I used, but it's one of the Artistic Filters.

It was fun to try to replicate it.
ETH-na "face study" 6x8" (oil) 2013



02-03-13:
Last week, I mentioned that I was working on the first nude study in a while.

But that wasn't quite accurate. I had started a painting back in December, and set it aside. Which means, other things got piled in front of it!

While organizing a bit last week, I ran into it, and planned to go back to it over the weekend.

I think it ended up all right...
ETH-2422 "Informed Consent" 11x14" oil 2013

And of course, the face studies continue..
ETH-na "face studies" 6x8" oil 2013



01-27-13: And occasionally, time to paint..
Last Thursday was the reception for the 43rd Annual Contemporary Show at Pauahi Tower Gallery, and mahalos for another fine gathering. I know I often work small, but.. my piece looks practically tiny in such a big space -- even the sign is bigger!
Next up, the opening for "Little Gems" at West End Gallery.

I sent 5 pieces and a couple copies of "On Speculation" for your consideration.

Otherwise, painted a couple of faces over the weekend, started a large portrait that I want to try something a little different with [stay tuned!], and also started a small black and white nude, which I haven't done in a while.

Again, I'll let it dry, and tweak it

some more.
ETH-2423 "Study: chiseled" (8x10") oil 2013

And I updated Roland's page for the first time in way too long. I put a few older pieces some of which have been in private collections for some time. However, giclees are available for some of the new images, if you're interested.





01-20-13: Finishing up..
Yesterday, I finished up on two previous pieces post on this blog. This one might be the beginning of

"the cap series"?
ETH-2421 "Delivery Man" 9x12" oil 2013





01-13-13: Progression..
I've been meaning for some time to do a series that shows how some of these portrait studies are.

Today, I took a series of photos to do just that.

For the usual 6x8" faces, I staple a bit of canvas to a panel, gesso it, and occasionally give it a final tone so that I'm not always working on a plain white surface.
The study I worked on today is actually an 8x10" of this process. I mostly work from a face image that I pull up on the computer monitor, a digital model as it were.

In the next series of shots, I sketch out the head, worked on the skin tones, and went from there.
I'll let the paint dry and come back to this later

to see if it needs any more work.






01-06-13: 1st entry of '13..
So, this is the first weekend and entry for the new year.

I've been busy working on a few pieces for the upcoming "Little Gems" exhibit at West End Gallery. I'll post one of them as we get closer to the opening date of that show.

And still doing the "faces." And I've also been working on a slightly larger portrait that is an interesting mix of realistic detail and loose, more impressionistic approaches.

I'm posting a couple of "in progress" images so that you can see how it's coming along.
ETH-n.a. [in progress, two stages] 9x12" oil 2013

Also, I received a copy of the Association of Hawaii Artists

show promoting the opening reception January 24th.

My painting looks good in this layout.
12-30-12: Catching up with News..
Well.., now that all that is over, it's time to catch up on things.

First of all, I had three pieces accepted into the 43rd Annual Contemporary Show put on by the Association of Hawaii Artists. The show official runs Dec 31 through February 23rd at Pauahi Tower Gallery-Lobby Level, downtown Honolulu. You'll know you've found it when you see "Locard's Exchange"..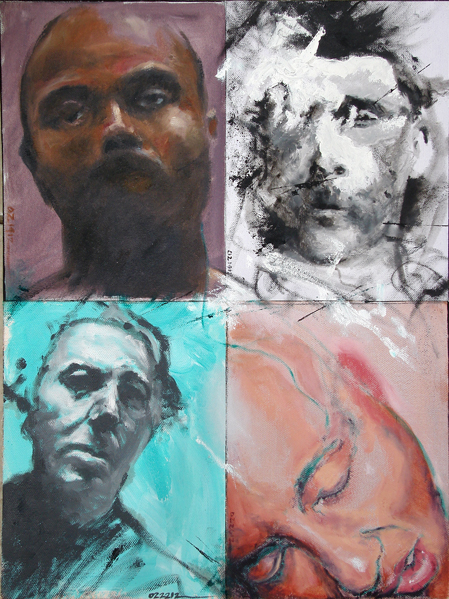 I also hinted at an announcement, which is this:

I have put together a small book of some of my artwork, called "On Speculation." You may have seen a previous reference to this on my [about] page, but now I'm making the official announcement. (I was holding off until after I gave some copies to family for Christmas.)

This small artbook is available through Lulu.com, and I'm including a sample page here: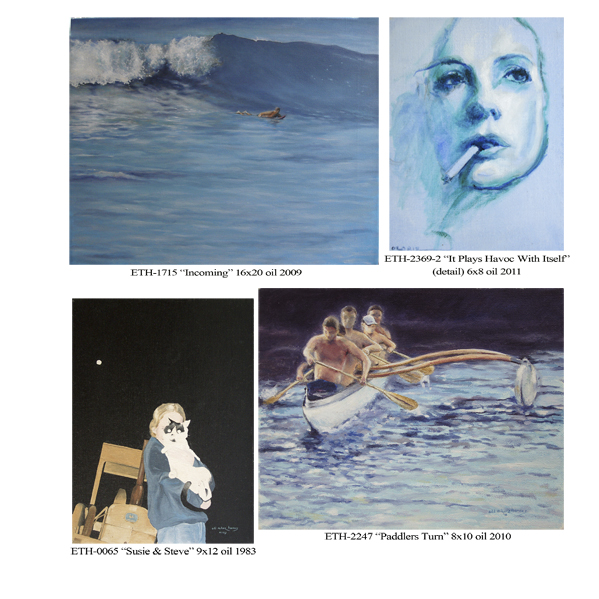 "On Speculation" by Edd Tokarz Harnas
12-16-12: Excuses..
I have been busy with a variety of things, both in and out of the art studio.

One is a Christmas project, and a related announcement at the end of the year.. which you'll learn about in a future post. I've also done two stints as an extra on TV shows filmed here, as well as my regular "day job".. and a cold!

I'm usually not very productive when I'm under the weather.

So biding my time with a couple more face studies from the past couple of weeks.
misc face studies 6x8" oil 2012



11-18-12: Another Little Gem..
As mentioned, or promised, last week, I have an image of the Corning Ware coffee pot painting that I did for the West End Gallery "Little Gems" show next February.
ETH-2410 "CorningWare on Glass Table" 5x7 oil 2012



11-11-12: working toward 2013..
The first group show at West End Gallery for the new year is "Little Gems" and I've been working on some smaller pieces to choose from. Today, I did a Corning Ware coffee pot still life that I'll include in a future blog-entry (once it's photographed, etc). Yesterday, I did a pepper still life that is more colourful than my regular palette. I think it would be a welcome addition to a kitchen gallery!
ETH-2409 "coloured peppers" 5x7" oil on panel 2012


I also managed a couple more face studies..

sort of a warm up exercise as I started my painting day.
ETH-na face studies 6x8" each, oil on canvas 2012



10-28-12: Another oldie..
My friend Kathy emailed the other day for some information about one of the artworks of mine that she has in her collection. She chose it for a Collector's exhibit that's coming up. It's a piece I call "The Sistine Door" which is made up of two photographs that I took for a photo course (along with Kathy) many years ago.

They were of a door on a garage behind an apartment I used to live in in Corning. Sometime later, I "collaged" these two photos and drew Michelangelo's study for a sybil for the Sistine Chapel in acrylic paint. Why that particular image, I forget! But it definitely led to the title.

Then I remembered that this piece was one of two that were juried into the Rutger's National '90 at the Stedman Art Gallery.

The other piece in the show was "Mnemonic #2 (Feb 1976)".

This image is scanned from the catalog of that show.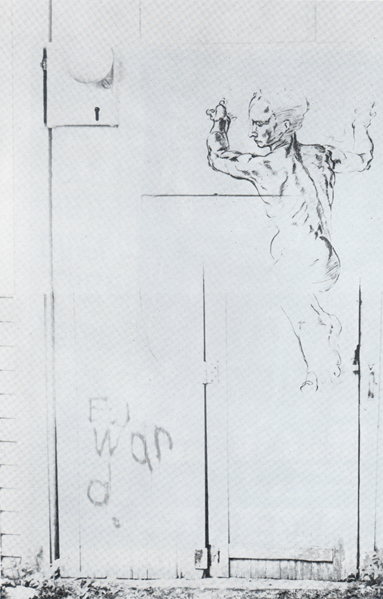 ETH-0495 "The Sistine Door" 11x15" arcylic on collaged photographs 1988



10-21-12: Revisiting an old theme..
I did some wineglass paintings in the '80's; It was an interesting theme for a while. And the tradition is carried on, of sorts, by my daughter Amelia with her Winestain series

that I love.

As I was "digitizing" some of my old art slides, I saw a couple of these wineglass paintings for the first time in a long time, and thought it would be interesting to return to that theme. So I recently re-did one of them and I like how it turned out.

It was quite a problem though trying to photograph this new piece. In the bottle, wineglass and background are some red tones that were hard to capture, even with my digital camera. Third time was a charm though..

I think I'll be sending this to West End Gallery

for the next show.

After all, they're in the Finger Lakes wine country.
ETH-2403 "Nachtwein" 8x10 oil 2012



10-14-12: An oldie..
When I was looking through old slides of artwork to digitize to jpeg, this one looked intriguing; as much as I could see< holding the slide up to the light. When I got the CD back,< I was rather amused: I don't remember painting this little study!

I remember other impressionistic florals that I've done, out of respect and admiration for Monet, for instance.

But this one? It escapes me how I came to do it. But I like it none-the-less. I might have to try doing some impressionistic Hawaiian florals next..
ETH-0978 "Magnolia Blossoms" 4x10" oil 1997



09-30-12: About face(s)...
Took some time off from the face studies for a while to take< care of some other projects. And frankly, it was starting to become too much of a routine. How can I advance if it's becoming too predictable? But, as mentioned in the previous blog, I started a face, and followed a hunch to paint the same face over and over with different two-tone color schemes.

As I continued, you can also see they got looser. And instead of presenting them in a final scheme of two by two (top and bottom rows), I liked Roland's suggestion of a straight line, and to even keep the excess foam-core showing.

What do you think?
ETH-2408 "Take That Look Off Your Face" 10x30" oil 2012



09-29-12: Not exactly seamless..
As of yesterday, the switch-over to a new web host (along with the transfer of my domain name) appears to be complete;

i's dotted and t's crossed. Unfortunately, it wasn't exactly the "seamless" experience I had thought.

It took a couple of days to get all of the images and page/links in order. This weekend, I will double check to make sure everything is working as it should.

Last weekend, I did four more faces -- in a row; the first time back to faces in a couple of weeks. They are four variations of the same face, which I have collaged onto Foam Core for additional painting. Once that is done,

I'll get a photo of that up on the blog. Just whetting your appetite in the meantime.

And three new pieces go off to West End Gallery

for the next opening. One of the pieces is a little homage to morning coffee and the vintage Pyrex percolator I remember from childhood. Also shown, the vintage advertising, where I "borrowed" the title from.
ETH-2400 "The Secret Of The Second Cup" 6x8 oil 2012
09-16-12: Change is in the air..
I was doing pretty well trying to maintain a weekly entry in this "blog," but last week, I was unable to access my FTP account through my web hosting "service." The problem appears to be partially remedied, at least via another browser.

But due to periodic problems, I think it's time to check out other web hosting services. So, if things appear a little chaotic in the next few weeks, you'll understand why.

Also, I may have to give up the "eddharnas.com" domain, so please make a note of the "official" url: www.eddtokarzharnas.com as some of you may need to use that in the future. Again, things are still in the early stages of transition, but at least we're all up to speed.

Photos of some recent work are still in the camera, or waiting to be prepped in PhotoShop. The most recent image I have is of another face.
ETH-2398 "Cloning Mona" 9x12 oil 2012



09-02-12: Nothing's ready..
The projects have slowed down lately. Doing more layering with oil, so it takes a little more time to allow a previous layer to dry. That means, nothing's ready to share at the moment. And the face series has pretty much moved on to a new level, meaning: I'm not doing one a day. More like when I miss doing one, and feel like it's time do another one.

The "bigger" faces will start showing up now. "Cloning Mona" (Aug 19, 2012 posting) is probably done. Although I haven't signed it yet, it is gallery wrapped, and I want to live with for a little while and see if I'm satisfied. Another bigger face ("Never Backtalk A Big Girl") is now posted< on the main page. As far as posting an image today, this one goes back to the etching series from many years ago, based on a photo of a rabbit my daughters had as a pet.
ETH-0552 "Rabbithead #5" 5x6" etching 1989



08-12-12: But wait, there's more..
Yes, the "stack of faces" keeps growing as I usually do one a day.

Weekdays are workdays, so those faces tend to be quicker, looser studies (one recent one was a pencil and oil wash piece that took less than 10 minutes).

Here is a random grouping of some favorite faces from the last couple of weeks.
ETH-na [misc face studies] 6x8" each oil 2012



08-05-12: More older stuff..
I'm having another little batch of art slides scanned to disk.

I also realized I had some older etchings in my portfolio that needed to be included in my master picture file, so that was part of my Saturday: shooting and photoshopping.

I did a series of etchings in the early to mid 80's after taking a workshop with etcher Doris McKenzie back in Corning.

On the one hand, being pretty good at drawing, I was attracted to the medium. But the drawbacks: having to think in reverse, and also not having any sense of how the piece will turn out until it is etched in the acid bath and run through a press. Sometimes, a time consuming and drawn-out frustrating process.

But it was good to see some of those etching proofs again. I'm including one of my favorites here.
ETH-0095 "Equi Pascerunt No 2"

etching/aquatint on Rives BFK paper 8x10" 1984



07-08-12: Catching up...
Below is one of my oldest paintings that I still have an image of from that recent slide conversion project.

I'm also mulling over the idea of combining the main "home" page [index] with the "misc" page, so that ALL of the artwork comes up at once. Overwhelming perhaps, but I sometimes have that effect. Don't be surprised if you see the change this summer.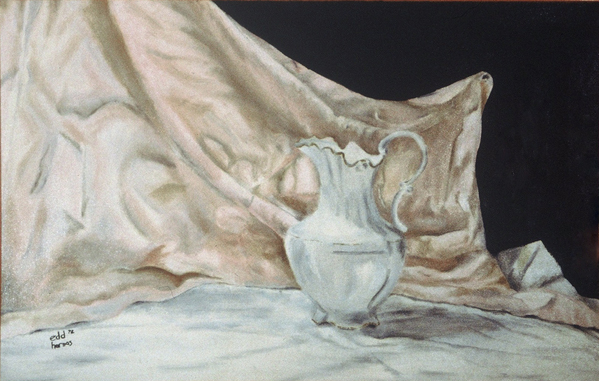 ETH-0051 "Pitcher Picture" (23x35") oil on canvas 1972



06-30-12: I'm back...
On my recent trip, I also visited with friends Kathy and Bill who have a nice collection of my artwork, acquired over many years! Seeing some of these pieces is just like catching up with old friends. One of my favorites that they have is a mixed media piece, shown below.
ETH-0836 "Renaissance Elephant" (18x23 1/2") 1993



06-17-12: Remembering Agnes...
40 years ago, on June 23, was one of the more challenging segments in my life.

A tropical storm, left over from Hurricane Agnes, travelled up the East Coast and unleashed some of the heaviest rainfall I've ever witnessed. As a result, widespread flooding torn up parts of New York and Pennsylania, including the home I lived in at the time.

The Community Arts of Elmira is holding an art show "Agnes at 40: Personal Perspectives" which features the work of a variety of creative individuals who experienced that day. I am part of this show.

About my piece, I wrote: "This Corning-specific piece incorporates major landmarks, some gone, and some< surviving to this day. They symbolize the city on that day, and as it renewed to what we know now.

The river gauge serves as a timeline of progress.

"Centerway Clocktower is set, to the best of my recollection, to the time authorities said they would sound the Corning Glass Works whistle as a warning that the water was coming through."

The piece is done with the same method I currently use for the portrait series:

a collection of 6x8" canvas pieces "collaged" together to an overal 18x24".
ETH-2385 "It Takes Millions of Raindrops to Make a Rainbow" (18x24") oil and marker (2012)




06-03-12: catching up..
A little bit busy with my new day job; this blog seems to suffer the most as a result. But I have been keeping busy with artwork, not to worry.

Just today, I worked on a new seascape that I'll post as soon as I take a decent picture. I also put a piece in the mail for a special art show coming up later this month; I'll post more on that shortly.

In this post, I'll reveal some more examples from my "face a day" series, but I'll start off with an older piece.

I had the slide scanned recently for a better quality image. It is of a wineglass on my parents dining room table at the end of some big family meal, perhaps Thanksgiving. It was the first in a series of wineglass paintings. Ironically, my daughter Amelia has been doing a fabulous series of wine stain/embroidery pieces in the past year or so, culminating in a show at a Finger Lakes region winery.

I'm looking forward to seeing it before it winds down later this month.
ETH-0064 "Weinglas" (9x12") oil on panel (c1981) Private Collection





04-21-12: Older works..
I recently made good (well, started anyway) on a plan to "digitize" my old slides of paintings. It's going to take a while, mostly because it's going to take a lot of money to do them all: guess-timating about 900! But I enjoyed going through my slide binder looking at many old paintings and drawings, many of which have been sold and I haven't seen for, well, many years!

As I tweak them with Photo Shop and get the images ready, I'll post some of my favorites both here in the blog.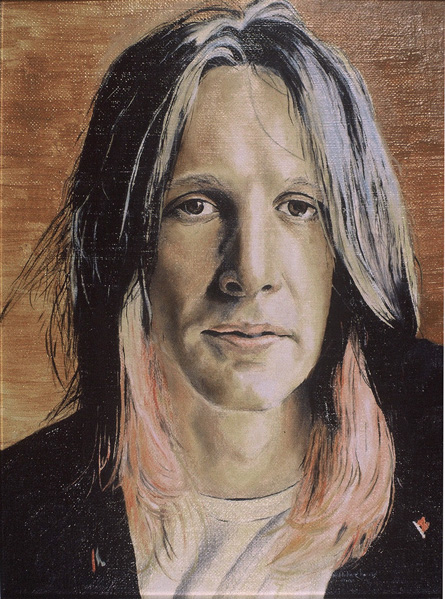 ETH-0010 "Todd Rundgren" (9x12") oil on panel (1981)



04-09-12: Another beautiful local moment..
Every once in a while we go out with cameras in the late afternoon to see what the sunset will be like. Of course the advantage of the digital camera is the "expendability" of the image -- take what you can use, delete the rest.

One time, I took one hundred-some shots of waves in one sitting. The hard part is going through them all and figuring out which ones to use. As I recall, I got about 3 or 4 paintings from that set.

Today's featured painting is from another such "inspiration

run" a while back. I just hang onto my favorite images until the time is right to paint them.
ETH-2339 "By The Light of the Moon" (5x7") oil (2011)




03-17-12: figure study..
The portrait studies that I have been doing in recent months have resulted in a variety of experiments in color and technique. In turn, I often apply some of these new approaches to older themes. This figure study was started right after a portrait study, and I even used the paint that was left over.

In the portrait study, I attempted a more mottled impressionistic look that I remember from some Norman Rockwell portraits I had seen in Look magazine..

let's just say, a few years back. I continued that technique with this figure study, instead of the common detailed black and white style I often use.
ETH-2375 "currently untitled" (8x10") oil (2012)



02-10-12: First New Blog here..
This is my first post with this "new" blogging procedure via my existing website. My previous blog was on Blogger, but Google is proposing some changes that I just couldn't embrace, so...on with today's story:


The Honolulu Museum of Art (formerly Hono. Academy of Art) has a free Sunday once a month (under Bank of Hawai'i's sponsorship). I take advantage of this every few months.

The museum's website says "Come be inspired," and this time, I certainly was.


One of my favorite galleries (I forgot the official name) houses Hawai'i art. There is one large wall with salon style hanging (which I don't like, at least, maybe the present arrangment). There is a small piece, too high up, but very eye catching still the same. And I thought, 'I have a photo of a similiar nighttime scene.

I'll have to try to paint it.' And I think it turned out pretty well in capturing the richness of the night sky.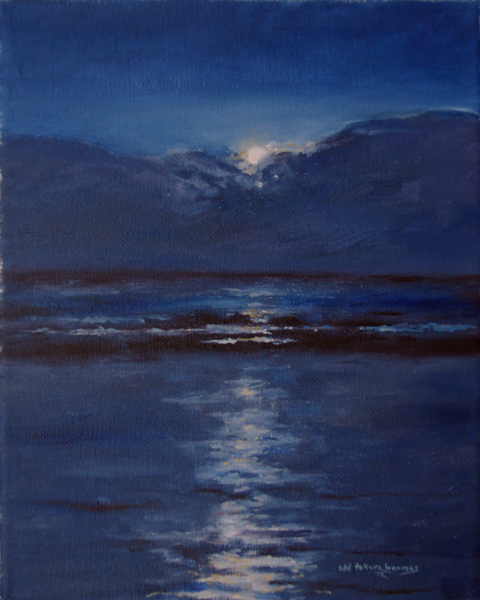 ETH-2360 "Night Sky" (8x10") oil (2012)



01-14-12:The Christmas Print
Obviously, this is a piece, from last September, that I couldn't share immediately on the blog because it was slated to be my Christmas print for 2011. This is a giclee< that I give to family. It's based on series of photos my brother Emil took of his Night Blooming Cereus as he patiently waited through the night to take.

I liked how he lit it, and since other family members also have one, I thought it was a nice idea for 2011.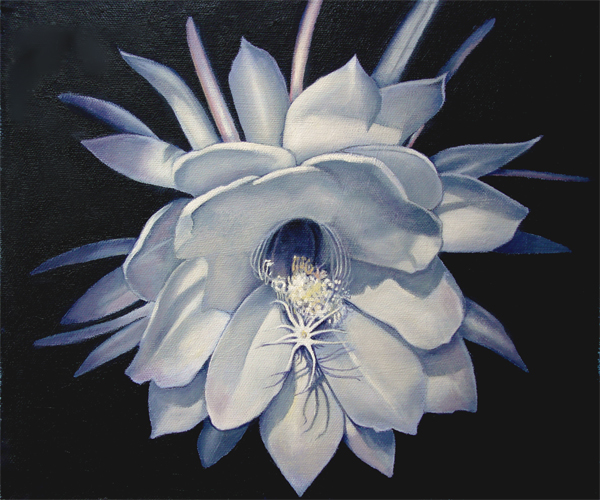 ETH-2305 "Audrey" (10x12") oil (2011)




11-14-11:
I've been holding back on the following piece waiting for it to arrive for Adriana's birthday. Well, it finally did the other day, exactly one month late!

It represents a nice little connection between German engineering and the Hawaiian beaches..
ETH-2304 "Beach Bus" (6x8") oil (2011)



09-30-11: Better late than never
Amelia is my daughter and frequently appears as a subject in my artwork. She is a talented artist and musician in her own right. I don't recall when I first saw her "wine stain" series, but I thought it was the most unique, creative idea I had seen in a long time.

Recently, several blogs have picked up on her series, and now I feel like a johnny-come-lately because I never thought to promote others on this blog.

Call me self-centered, but at least I know when to correct a mistake! Here's a teaser of what you can see at her website:
09-21-11: Ease and convenience...
There are two main reasons I like drawing with the ballpoint pen.

1) There is the ease and convenience... If I have some extra time, I can pick up where I left off. There's no setup and no messy clean up, no solvent smell etc.

The trick is finding the right pen: comfortable to use and "responsive" (ever pick up a pen, and have to scribble for a while before it starts! I HATE THAT!)

The 2) reason is that I like how the piece can have that "etching look" at the end.

Unfortunately, it never really shows up well in these photographs, but it is definitely noticeable when you hold and look at the actual piece.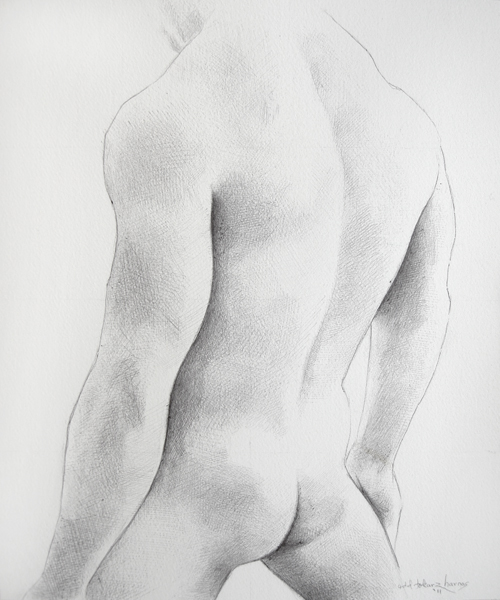 ETH-2250 "Sketch: behind him" (10x12") ballpoint pen (2011)



09-14-11: Another side of the island..
There have been a couple of really big south swells in the past few weeks, and I managed to get some shots for future artwork. I'm getting into the habit of remembering to take my camera on my morning walks.

Meanwhile, here's a painting based on a photo shoot on the North Shore. Not quite the epic waves Waimea is known for, but dramatic none the less. This particular spot is called Grater -- when a wave throws you up against those rocks, you'll understand why.

I have a couple of other North Shore scenes, as well as other Hawai'i themed artwork scheduled to show at the 4th Annual Napa Valley Aloha Festival this Saturday.
ETH-2248 "Grater" (16x20) oil (2011)



09-12-11: A new distinction...
Apparently, I can be "controversial." This painting was made especially for and entered into the Schaefer Portrait Challenge, a Hawai'i-based competition.

I saw the last show for it at First Hawaiian Bank

a few years ago (it is held every three years), and vowed to enter "the next one." The competition is open to Hawai'i artists portraying Hawai'i residents;

self-portraits (killing two birds with one stone) are also acceptable. So over the summer I buckled down, and came up with this one. It reflects a time of great frustrations as an artist (from the capitalist, not

the creative side) as well as national and world events:

the debt ceiling bullshit, the resulting world market roller coaster, etc.

The Oahu jurying for the competition was held over the weekend, and yours truly will have to wait another three years to try again. But, unlike most competitions I've entered, I actually got some feedback when I retrieved the painting.

It seems I sparked some controversy among the three jurors over the unfinished quality, especially the eyes;

otherwise it stood a chance. So note to future jurors of Edd's work:

if I sign it, it is DONE.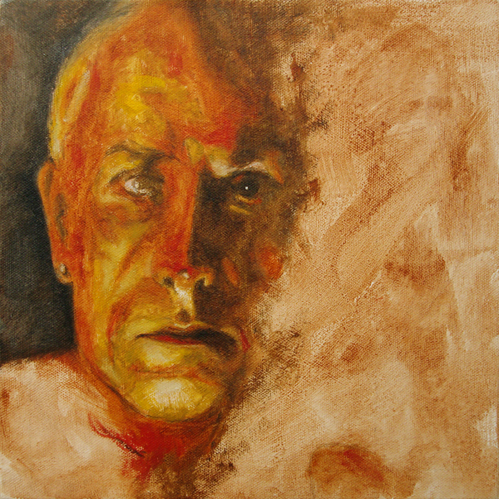 ETH-2288 "Portrait of the Artist, Pissed Off By A Variety

of Things" (10x10") oil (2011)





this website © 2011-2017 Edd Tokarz Harnas